The tide turned for a gold miner who sought the help of the police over missing money and ended up on a drug possession charge.
Lloyd Munroe, 36, is accused of having four grammes of cocaine in his possession on March 25, 2015, at 111 Miles, Mahdia. Munroe pleaded not guilty on Thursday at the Georgetown Magistrates' Court 1.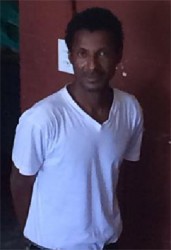 According to the man's attorney, Jerome Khan, Munroe's place of residence housed others and Munroe had gone to the police to lodge a complaint about missing money. He suspected the people living with him had taken it. The police, while investigating, went to Munroe's home and found the narcotic substance in an open compound. Khan pleaded for reasonable bail and explained that Munroe does not have any prior convictions.
But the prosecution stated the police went to the home of Munroe and conducted a search and the substance was found on a counter in the house. The police's claim is that Munroe is the only occupant. The prosecution objected to bail on the basis of the severity of the crime and the lack of special reasons.
Chief Magistrate Priya Sewnarine-Beharry subsequently denied Munroe bail. His next court date is April 20, at the Mahdia Magistrate's Court.
Around the Web