If you can imagine getting married at the top of the Kaieteur Falls or on the bank of the Ireng River overlooking the Orinduik Falls, at Arrowpoint or Baganara or even at the Marriott Hotel, then Guyana is the destination for your wedding, Captain Gerry Gouveia said as he declared the 7th annual Wedding Expo open at the Roraima Duke Lodge in Kingston yesterday.
His idea of promoting Guyana as an ideal wedding destination was echoed by Foreign Minister Carolyn Rodrigues-Birkett, who also highlighted the potential to expand wedding tourism and by extension applauded the efforts made to pull off yet another exposition of this kind.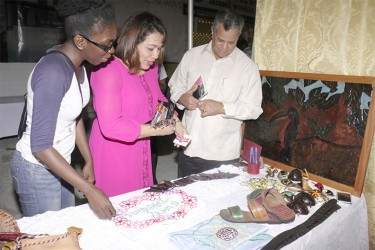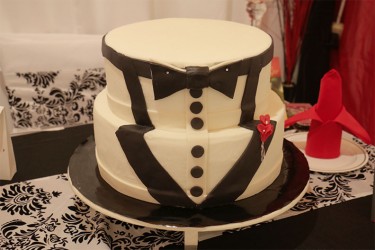 The expo aims to not only assist small business associated with weddings by giving them the opportunity to display their products and services to the general public but to also give couples who are preparing to tie the knot the help they need, at what is considered to be a very hectic time of in life.
Coordinator of the event, Gerry Gouveia Jnr, expressed his happiness on how fast booths were bought this year by persons eager to participate in the event. The booths showcased products and services, including décor, Mehendi designs, photography, makeup, floral arrangements and jewellery. While most participants were regulars, some first timers expressed the hope that the event would help promote their services to the general public.
G&I Imports showcased a wide variety of wine ideal for the special day. According to CEO Marie Grisi, her business exclusively sells bottled wine directly from the vineyards of countries such as Italy, South Africa and Argentina, with prices starting as low as $6,000 per bottle and vodka going at $11,500.
The 704 Sky Lounge, another newcomer, had an elegant set up that showcased how guests would dine. 704, in partnership with RED Entertainment, offers a sophisticated atmosphere for a wedding reception, with packages starting at $250,000 for rental of the venue and additional $120,000 for the décor.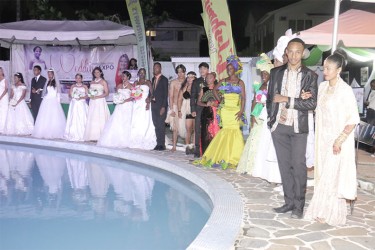 J-cee's Enterprise and Lianne's Cakes both displayed creatively designed wedding cakes and cupcakes. Executive Office Services/ Copy Centre displayed beautifully designed wedding invitations, including some handmade ones and some printed ones.
Apart from the booths, there was also a 'show of fashion,' which had a packed programme of poetry, dancing and performances by the reigning Calypso Monarch King Perai, Mighty Rebel and Singing Lurlene. However, the much anticipated item was the showcasing of the wedding attire. Various cultures were represented. Wedding Expo continues today with the wedding of the couple who won its 'Race to the Altar' competition.
On Sunday, there will be an exclusive lingerie show. Tickets for this show cost $1,000 and seats are limited. Tickets can be bought at the gate at Roraima Duke Lodge in Kingston.
Around the Web