A single parent is now challenged with the task of taking care of her last child after he was involved in an accident some three weeks ago which caused him to lose his entire right leg.
Otto Pitman, 26, of La Grange, West Bank Demerara, was involved in an early morning accident on March 1 at D'Urban and High streets, Georgetown, when his efforts to save himself from colliding with a motorcar that was heading in his direction failed. As a result, his motorcycle slammed into a lamp post at the corner of the road.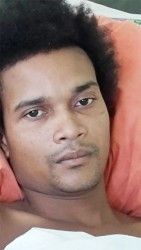 He subsequently fell into a nearby drain where he was left for hours before being picked up and taken to the Georgetown Public Hospital.
He has been an admitted patient since that day and has undergone several surgeries. The surgeries were conducted shortly after each other since his leg became seriously infected, leaving doctors with no option but to remove it.
According to his mother, who cried as she stood at the bed of her son, she has already made plans to take care of him since she doubts he will be able to do much for himself, including work again. Faced with this task, the woman said, she remembers the words he had always told her: "…Mommy I gun wuk and buy a car and I gun mine you, don't worry." Pitman worked as a gold miner in the interior.
Reports reaching Stabroek News indicated that the injured man's motorcycle along with some other belongings were stolen from him after the incident and nothing has been recovered since.
Pitman attempted to speak to this newspaper but he was in too much pain.
Around the Web