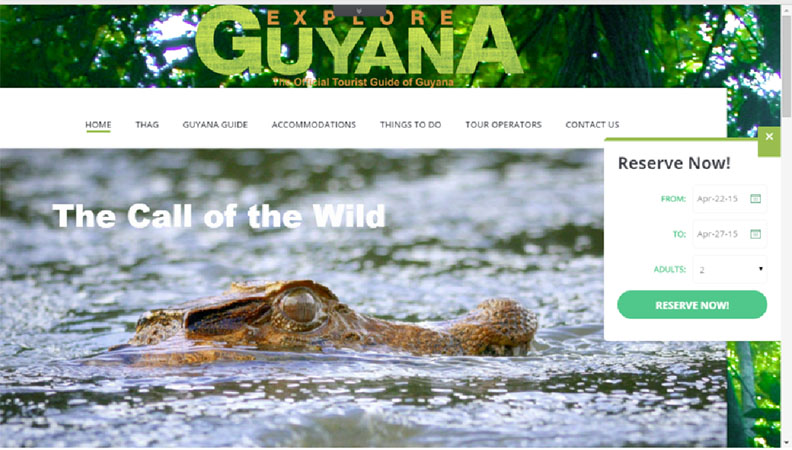 The Tourism and Hos-pitality Association of Guyana (THAG) is hoping that a new user-friendly website and a booking engine will make visiting Guyana easier for travellers, while increasing the competitiveness of the local tourism sector.
The new website, exploreguyana.org, went live at 8:20 PM on March 19, 2015 but was officially launched last Thursday at Cara Lodge, where tourism professionals from both the private and public sector were present.
At the event, Chairperson Nigel Hughes noted that the tourism sector in Guyana has seen quite consistent development and the website will take Guyana further. This view was reiterated by THAG President Shaun McGrath, who noted that since "80% of tourism customers start their research online, a well-designed website is important."
It is hoped that the website will build on the runaway success of the Visit Guyana Facebook page.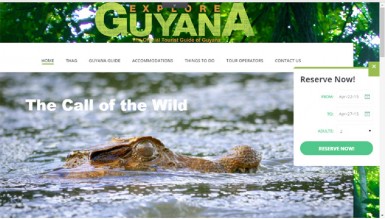 At present, the website, which is named after the Explore Guyana magazine, offers its visitors interactive tours of several hotels, lodges and resorts. Also available are lists of attractions, such as restaurants and festivals and other events. It is expected that videos showing the Guyanese product will be added in the near future and that the features will help to build awareness of the Guyana which is undiscovered.
Guyana Tourism Authority (GTA) Director Indranauth Haralsingh called the website strategic and timely and said THAG was proactive in recognising that ICT is indispensable to travel and tourists as it will build awareness, image and accessibility while saving time and money and being more professional and efficient.
The site and its marketing will be paid for through online advertising at a very competitive rate, McGrath said. The proceeds, he added, will be used to support its development and marketing as it is expected to be developed on an ongoing basis. The initiative will be supported by internationally recognised company Regatta Travel Solutions, which will assist in the promotion of the site internationally through the use of one third of the commission paid by THAG.
The most important feature of the site, according to McGrath, is the "call to action." Noting that people want to know now and make decisions on the spot, he explained that this will be facilitated by the booking engine, which will provide users the opportunity to make real-time online reservations and confirmations.
This booking engine, developed and supported by Regatta Travel Solutions, is expected to allow members to increase their direct-booking volume. It can be added to the website of individual members who will not be charged for its use, McGrath noted, while explaining that they will, however, be asked to pay a commission on all bookings received as a result of the engine.
At present, 12 THAG members are part of this initiative but this number is expected to grow as members become aware of its benefits.
Haralsingh told those gathered that the booking engine will be added to the GTA website and hopefully all other government sites since it is intended to be Guyana's official booking engine.
Haralsingh also expressed the hope that the engine, which was now used only for hotel bookings, would expand to include the booking of tours and other packages.
Around the Web