After setting off a torrent of criticism for his suggestion that the late president Cheddi Jagan lived a luxurious lifestyle akin to his own, former president Bharrat Jagdeo yesterday said his statements had been distorted and taken out of context.
At a news conference at the PPP's Freedom House headquarters, Jagdeo insisted that he has not "back pedalled" on his words and maintained that he would defend the acquisition of his wealth.
"I am prepared to do that, as I said, because if people earn their money honestly why should they be worried about living in any building or nice house," he asserted. "I am prepared but not to the Stabroek News," he, however, told this newspaper when asked if he would be willing to justify how he was able to acquire his home on a presidential salary.
Jagdeo's wealth and presidential benefits have long been cited as evidence of the ruling PPP's departure from its working class focus under the leadership of Cheddi Jagan. In the light of renewed criticism, the former president may have been seeking to do damage control ahead of the party's first rally in the current elections campaign, planned for today in Kitty.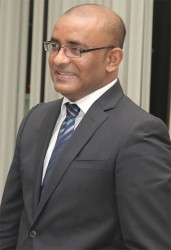 Jagdeo yesterday also blasted former party executive Ralph Ramkarran, saying that he had taken his response from a previous press conference and distorted it, causing Jagan's daughter, Nadira Jagan-Brancier, to be furious.
He also said it was Ramkarran's writings that led to a host of other false accusations against him.
"I saw Mr Ramkarran, who pathologically hates me—for three years he has been criticising me—I saw he deliberately distorted what I said," Jagdeo pointed out.
Speaking on the pension he is slated to receive, Jagdeo also informed that it would be $1.5 million per month and that opposition leader David Granger, who has criticised the pension package, receives nearly $600,000 per month along with other emoluments.
"They speak about the size of my pension and the size of my salary …but it was the same for Arthur Chung," he stated, referring to the late former president, who died in 2008, a year before a law was enacted to enshrine benefits and facilities that have previously provided for through custom and practice at the discretion of both the current and previous administrations. However, the absence of caps for the benefits prompted opposition concerns and a bill was passed last year to impose limitations although it did not receive presidential assent.
At a March 10 press conference, Jagdeo had defended his palatial home and contentious presidential benefits package, saying he was sure that the late President Cheddi Jagan would not have wanted his ministers living in an underprivileged manner.
"I don't believe ministers should have to live in a logie to prove that they are not corrupt… Cheddi Jagan didn't have to prove that by living in a logie," Jagdeo said, when asked if he believed that his posh home and the rapid accumulation of wealth by ministers in the PPP/C would be within the late president's ideals.
"I don't think Cheddi Jagan, living in Bel Air Park [Editor's note: the Jagans lived in Bel Air] at that time, in a nice house, was typical of Guyana. But Cheddi Jagan lived at that time there. Did that weaken his commitment to the cause? No. At that time that was a prime area. It was a big piece of land, nice house and it still is a nice house," he said.
"Did that weaken his commitment to the cause? Did that make him corrupt or anything of the sort? What is the point they are making?" he added.
Following his comments, Ramkarran, writing on his conversationtree.gy blog, said that it was a "sin" for Jagdeo to use the name of the late President Jagan to "justify his mansion, his pension and his Cadillac lifestyle."
Ramkarran, who was a member of the PPP for nearly 50 years before resigning two years ago, said that in the 1960s, Plantation Bel Air, as it was then known, was a poor community of mainly small artisans, farm and city labourers and subsistence cattle and vegetable farmers. Ramkarran said that Jagan's land, next door to where he (Ramkarran) was born, grew up and still lives, was acquired for $2,000 in the early 1960s. Ramkarran said that the house that Jagan constructed comprised of only an upper flat of three bedrooms, a tiny study, a small living room and kitchen.
"The impression given by Dr Jagdeo that Cheddi Jagan built a mansion, at the time comparable to his own, in an existing exclusive area is completely false and disingenuous," Ramkarran said.
Jagdeo yesterday said that reference can be made to his original comments and that they were in no way a critique of the late president's life. "…I made it clear that Cheddi Jagan's integrity is above board; is a person of high moral standards… If I felt—and I tried to put myself in her position—if I felt someone had criticised my father and disparaged him, I'll probably say the same thing or even worse," he added, referring to Jagan-Brancier's comments.
Jagan-Brancier had also said that Jagdeo's comments were untrue. "I am extremely disappointed that Bharrat Jagdeo would try to compare his lifestyle to that of my parents, former presidents Dr Cheddi Jagan and Mrs Janet Jagan, and defend his opulent lifestyle by pathetically claiming that my parents also lived in a large house in an affluent community. Nothing could be further from the truth," she had said.
Sadie Amin, who was the personal assistant to the late President Janet Jagan and a longstanding member of the party, had also reproved Jagdeo saying in a letter to Stabroek News that his comparison of Dr Jagan's life to modern day ministers of government and himself was "cheese to chalk."
"To compare Dr Jagan's simple life and his home in Bel Air to what obtains today is absurd," Amin wrote.
Around the Web