As a ten-year-old growing up in a segregated United States of America, Rev Ken Steigler remembered being taught to treat everyone with respect and it was there that the seed of equality and justice for all was planted, which later saw him actively participating in the struggle led by the late civil rights leader Rev Dr Martin Luther King Jnr.
Today Rev Ken, as he is better known, continues that fight to do what Dr King preached in those years gone by: share the love of Jesus even when you are greeted with hate. The American pastor was in Guyana recently as part of a team from Victory International which partnered with its local chapter, Project Life, to work with locals and reflect the love of Jesus Christ.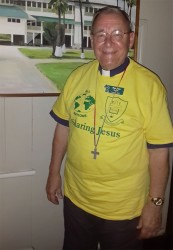 In a sit down with the Sunday Stabroek the reverend spoke of his years of learning non-violent postures from Dr King and how he along with over 80 seminary students had journeyed to Selma, Alabama, in 1965 after what is now known as 'Bloody Sunday' which saw many persons being severely beaten and thrown into jail. Their crime? Attempting to stage a peaceful march over the Edmund Pettus Bridge, during which they were brutally attacked by state police. The terrifying images were shown on television screens and it was those same frightening images that propelled Rev Ken and the others to put their lives and safety at risk and travel to Alabama when Dr King issued that call in March 1965.
When he was a child, his father owned a used car business and he worked with his father for a while. "He sat me down when I came to the lot to work as a little lot boy…he said 'I want you to know every person that comes into this lot is regarded with dignity, every person is somebody we highly regard no matter who they are'…so that was from a little boy," he said.
He recalled that he did "everything" to ensure that all customers were honoured and respected.
Later, he went off to college where he joined a fraternity that was interracial, international and interreligious and which triggered two FBI investigations because of complaints from residents.
He recalled that in 1962 as part of a group he travelled to Atlanta to meet Dr King and Jesse Jackson among others where he had "some conversations and some dialogues and learnt about what was Dr King's vision for voting and people sitting on the bus and so on. We got a lot of training." Part of that training was to "focus on Jesus and keep the love of God in your hearts no matter what the people say to you and love them."
Following the training they went to a restaurant where they sat on stools together. "We were sitting on stools black, white, black, white…, and when we did that they came up and they kicked the stools… They were yelling very nasty things in our ears, it was very bad…," he recalled adding that they were just students in training and they did not want to get arrested.
They left after two days and their first "real encounter with hostility."
The 24 students on that training travelled in two limousine styled cars and they were called the "reversed Oreos" because of how they sat in the cars, white on the outside and the blacks on the inside.
They visited cities and on their return Dr King wanted to have lunch in Atlanta and they called ahead and informed the police that they wanted to have lunch at the airport as an interracial group. At the airport, the state police and National Guard were on hand armed to the teeth; there were people armed with clubs and tools yelling and swearing at the group.
It was all part of the training on how to "keep our focus on Jesus and love the people who were trying to kill you."
'Bloody Sunday'
The reverend said he was at seminary when 'Bloody Sunday' occurred in 1965 and after that "terrible terrible time" Dr King called the dean of the seminary requesting pastors to go the location. At the time Reverend Ken was the social coordinator for the Boston University School of Theology seminary and the dean indicated that he wanted two buses full to travel to the location.
At 23, he said he was prepared to be on the bus and other universities were contacted and eventually 82 pastors agreed to travel to the location.
"We all signed our last wills and testaments because you know if we were killed we wanted our wives, our mothers and fathers to get what we had… and we all gave them over to the dean and we got on the bus. As we drove down we had stuff thrown at the buses…," he recalled.
In Alabama, people were throwing "little rocks… over the buses hitting and making noise" and as they drove into Selma, Alabama, people were standing in front of a chapel singing and praising God.
"We got off the bus and we were in tears because we thought they would have been crippled and would be so injured but they were singing and praising God and so that was very moving for us," he said.
In Selma, they were trained in some non-violent postures especially for if they came under attack. They were expected to go into a non-violent foetal position and other people would lay their bodies over theirs so that multiple persons were being beaten at the same time.
Shortly after, in twos of black and white and in groups of ten they walked to the courthouse hoping to help blacks to get registered even though they were threatened by persons armed with baseball bats and clubs among other weapons. They were also threatened by armed police who had dogs "that would come some close they were almost biting your legs it was very intense but we had learnt [that we should] love them with the love of Jesus and focus on Jesus and not what they were doing or saying."
At the courthouse while people were registered the numbers were called out in almost gibberish, so no one would understand and whenever there was the odd moment of a number being understood and one of the blacks went in they were given books in Spanish, French or German to read.
"And when they could not read it was 'oh you can't read? If you can't read you don't qualify' and so we went back and forth like that this for days," he recalled.
While the blacks were given books in foreign languages to read the whites were given kindergarten level books to read so as to ensure they were registered.
Because no motels would take them the students had to stay in African American homes and on the first night the houses were riddled with bullets by members of the Ku Klux Klan (KKK).
"Nobody was injured because they were shooting into the first floor of the homes and not where people were sleeping [but] they were very scared and they said 'ok we are ready to go'," he said and he was forced to appeal to Dr King to speak to the students.
Dr King showed them the front page of the newspaper where they were called agitators and he said "you never get dirty washed clean without agitation and he went on to talk about the prophets and about Jesus cleaning the temple. He talked about agitation, bringing the love of God and that sometimes you knock over a table and so on bringing the love of God."
That settled it and the students went out and marched not knowing whether they would have been killed in the process.
Put out
Some in the group remained until March 20, and the following day was the big march from Selma to Montgomery but he had promised to fly back to renew his parents' vows; it was a date he needed to keep. He had to leave the group and one of the buses had to return as some of the students had to attend to their churches. One bus remained with the students who were on the march.
"I thought I was doing a really good thing. I was a new pastor and I was here in Selma, Alabama representing [his parishioners] in this community against strong evil to help people to vote which was their civil right," he said.
But some at his church in Nova, Connecticut did not feel that way and on his return he found his belonging on the front lawn.
"The trustees emptied out my house and they were standing there and I parked the car and asked what was going and they said 'we don't want you as a more nig pastor in our parish.' I had never heard that in my life and I had been around a little…," he said.
He walked into the house and he called the superintendent and the Bishop informing that he needed help. The district superintendent informed that he was going to meet with the church and that the then young pastor should stay in the house as he did not want him to hear what he was going to say. Early that night the trustees returned everything to the house and then informed him that they were taking him out to dinner which was "a little tense" but he prayed and thanked them.
After a while things got better. He said he later heard that there was a KKK cell in the area which had heard of a letter he sent to the Parish informing that he was in Selma supporting the struggle and it was this group that had stirred up the church resulting in him being put out. Rev Ken said he has had several frightening experiences over the many years as he continued to fight for equal rights and justice using the love of Jesus as his main effort. He continues this today as he believes all human beings are equal and deserve no less or more than each other.
Around the Web