A young mother of one has been missing for one week now and her husband who has been accused of abusing her is in custody.
The missing woman, Samantha Alli called Devika, 20, of Fisher Dam Zeelugt, West Coast Demerara was last seen on Monday around 9:00 am by residents of the village at which time she was allegedly abused by her husband and thrown out of their home.
Stabroek News understands that Alli has been living with her husband, who is a conductor of a Route 32 minibus, for the past four years and they share a three-year-old son. However, reports indicated that the woman was constantly abused and every time Alli attempted to report the matter to the Police she was threatened which got her scared.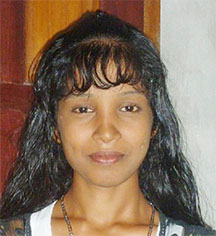 Carmen Matthews, the young girl's aunt said although her niece has been missing for a week now it was only on Wednesday the family got the news. She added that since then family members have been frantically searching for the woman but have come up empty-handed.
"We check all over and no trace but we ain't giving up", the woman said. Matthews also told this newspaper that even after Alli was beaten by her husband on Monday, she attempted to enter the house again because of her son but she was continuously beaten and forced down the street to the seawall from where only her husband was seen returning.
When this newspaper visited a relative of the woman yesterday at Tuschen, a number of persons were present trying to figure where the missing girl could be and what would be the next move in searching for her.
Her husband is currently in police custody at the Leonora Police Station assisting with investigations.
The family is pleading with members of the public for help to find Alli. The family can be contacted on telephone numbers 621-9934, 664-9190. Alternatively, reports could be made at any police station.
Around the Web