President Donald Ramotar has promised that if his government is re-elected it would ensure that the sugar industry survives and that a minimum of $20b would be invested.
He was at the time speaking to an enthusiastic crowd of about 500 persons at a meeting at Zeelugt, East Bank Essequibo on Saturday evening.
They cheered loudly to remarks made about the good work the government has done and shouted no when asked if they wanted the opposition back in power.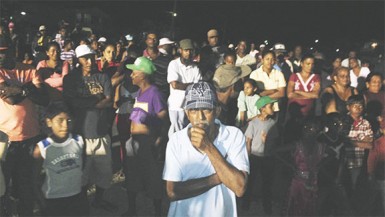 He lamented that his government never allowed sugar to fail although leader of APNU, David Granger who had talked about shutting the industry down, is now saying that sugar is too big to fail.
He repeated the frequent charge that APNU was also against the Amaila Falls Hydropower Project but that Granger is now changing his position.
Ramotar said the PPP "does not want power for the sake of having power" like the opposition does, but it wants to transform the lives of the people.
Before his government prorogued parliament it did not have the power, owing to the one-seat opposition majority, he said. Ramotar added: "If we had the one-seat majority over the last three years we would have been growing by 10% per annum. Because you know that we already had the agreement with the Blackstone Company to build the hydropower station in our country."
According to him, the hydropower station had "benefits for every single Guyanese because the biggest expense that this government has in importing things to this country is importing fuel to generating energy."
He said "we subsidize electricity so that you do not have to pay more [for] light bill. Every year we spend more than $5b just to ensure that you do not pay more… And if we had gotten power from the hydropower station you would have saved between 20 and 40%…"
Cabinet Secretary of the PPP/C Dr. Roger Luncheon urged his supporters to "stick with the People's Progressive Party/Civic administration."
According to him, "These misbegotten sons and daughters of Guyana… come with the greatest temerity and the greatest absurdity and to say to you that they want to run this government. And we know what the credentials are; you got to do better than the incumbent."
According to him, "there ain't nothing under the sun in the APNU that could take on the PPP/Civic and win – nothing. Because what do they have to offer? Not a damn thing. Three years we have built and these men started to bruk up every blasted thing that we put in place."
Also speaking at the meeting were Regional Chairman, Julius Faeber and Vice Chairman, Pasha Mohamed.
Around the Web