Two men were yesterday charged with disguising themselves as police and robbing poultry farm workers of almost $1 million in cash and property after stopping them at a bogus roadblock at Mahaicony.
Slapped with a dozen charges between them were Rayon Paddy and Orin Arthur, who were also said to be prime suspects in a robbery at a Popeyes Restaurant.
They each denied six charges read by Chief Magistrate Priya Sewnarine-Beharry yesterday at the Georgetown Magistrates' Court 1, which heard that they were picked up last Friday at a house in Diamond, East Bank Demerara with drugs and a gun.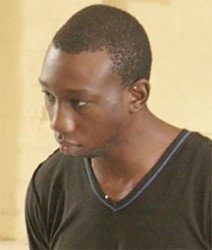 It is alleged that on March 18, 2015, Paddy and Arthur set up a roadblock on the Mahaicony road, East Coast Demerara, where they robbed Ishamael Zamana, Rabindra Mohinlall, and Anand Rahaman, who were all occupants of a Mohammed's Poultry Farm's Canter that was travelling to Berbice. The three men lost three wallets, valued at $1,500, $2,000, and $1,500, and personal cash in the amounts of $15,000, $10,000, and $1,500, respectively. Two phones, valued at $20,000 and $8,000, belonging to Zaman and Rahaman, and $900,000, which belonged to Mohammed's Poultry Farm, were also taken in the robbery.
The prosecution stated that the men were travelling to Berbice to drop goods as usual when they came across the roadblock and Paddy, dressed in a dark blue police uniform, and Arthur, dressed in a traffic policeman's uniform.
It is alleged that the two men stopped the vehicle and ordered the three salesmen out. Paddy and Arthur are said to have then locked the three men at the back of the vehicle and drove it away. They made a stop somewhere along the Mahaicony road and relieved the men of their personal items and the company's cash and escaped. The three men, locked in the canter, pierced a hole in the vehicle and freed themselves. The robbery was reported to the police and an investigation subsequently led to a raid at the men's place of dwelling, where they were arrested.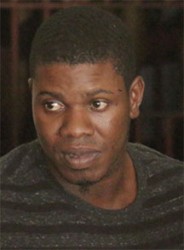 The court was told that on March 27, 2015, at Diamond, the two men were allegedly found with eight grammes of cannabis, one gramme of cocaine, 17 .32 rounds of ammunition, 12 live rounds of .32 ammunition, and an unlicensed .32 revolver in their possession.
The Chief Magistrate remanded the two men to prison after objections from the prosecutor. Their next court dates are April 8, 2015 at the Mahaicony Magistrate's Court, and April 7, 2015 at the Providence Magistrate's Court, which will hear the charges stemming from the illegal items allegedly found at Diamond.
Meanwhile, Paddy was faced with an extra charge. It was alleged that on January 29, 2015, he escaped from police custody at the Georgetown Public Hospital, where he was receiving treatment for a gunshot wound he received from an off duty police officer during an attempt to rob Popeyes Restaurant on Vlissengen Road last year. Paddy pleaded not guilty to the charged and explained that he did not escape but was let go by the police officer guarding him. The man stated that he bribed the police officer with $80,000 and the officer unlocked his handcuffs and ankle chains and told him, "Do what you got to do."
Bail was again denied and the next court date for this matter is April 17, 2015, when it will be heard in a city court.
Around the Web