One year after a taxi driver was shot dead in his car at Strathspey Railway Embankment, East Coast Demerara (ECD), relatives are still waiting on the police to make an arrest.
Roopchan Darshan, formerly of 98 Logwood Enmore, East Coast Demerara was found slumped over the steering wheel of his car, PRR 4834, with a single gunshot wound to the head on the Strathspey Railway Embankment around 10.50 pm on March 28, 2014.
Over the year, as family members and close relatives thought of what might have been the reason for his sudden death but they came up with not a single clue. However, they fear that by now the trail would have gone cold.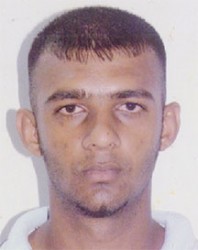 When Latchmie Darshan, mother of the dead man spoke to Stabroek News she recalled sitting on her verandah and seeing her son parked on the road waiting on a call to do a drop. "He is gone but not forgotten, at least not by us," were the words of the still grieving mother. She reflected on the days she visited the Cove and John Police Station anxious just to find out if anyone has yet been arrested for her son's murder but sadly never got a yes as the answer.
The mother said the person she knew her son to be was not someone who would have been involved in anything that would lead to him wanting to take his life so terribly. The only incident she recalled that she was aware of was one that transpired at a gas station two days before his death. "The man that own the gas station and my husband is good friend that's how come I know about what happen the night. The man told me, me son and another man had an argument over buying gasoline and the man pick up a wood and told him he will finish him off," Latchmie said.
She noted that she fought for justice but is now only left with the thought that the matter has been forgotten since to date no one has ever contacted her in relation to the matter. She added that it has not even reached the extent where anyone was taken into custody and questioned.
Her hopes for receiving justice have now diminished, she said.
Around the Web