A taxi driver is now dead after he was hit by a speeding car as he was about to enter his vehicle on the public road at Zeeburg, West Coast Demerara on Sunday night.
Omadat Narine Singh's co-workers at the West Site Taxi Dervice were left scrambling to move his almost lifeless body from under a truck after the accident, while the driver of the car escaped and abandoned the vehicle in a another village.
The accident occurred at 11.30 pm.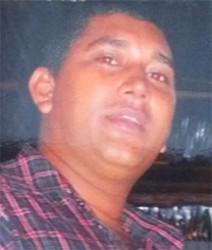 Singh, 38, of 720 Zeelugt, East Bank Essequibo was pronounced dead at the West Demerara Regional Hospital.
A police statement on the accident said investigations revealed that the driver of the car overtook another vehicle and struck Singh down in the process. The abandoned vehicle was recovered by the police.
One taxi driver recalled that Singh had finished working and was "liming with the boys" at the taxi service base before he decided to go home. "He had already cross the road and was standing by the car to open the door when this car come speeding and hit him," the man said, adding that Singh's body was tossed several feet away from where he was hit and he ended up under a truck.
"We run out and try to get him out from under there to carry him to the hospital to save he life but by the time we reached the hospital he was dead," the man stated.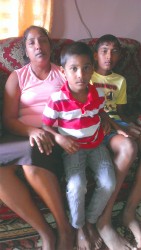 Singh's wife, Bibi, was distraught with grief over her husband's death. She stated that the last time she saw him was at lunch on Sunday. She said around 12.15 am yesterday, a taxi driver from his workplace turned up at her gate and told her that Singh had been seriously injured in an accident.
"When I reached there, my husband was on his last… He was panting for breath. I watch my husband deh lay down there and then he left me and we three children. Tell me what we gon do now?" she cried and hugged her youngest son.
"…My husband was the sole breadwinner and we lose him… If you see how my husband was fighting for his life last night. I don't mind if he de live, I woulda mind he," she lamented further, stating that she wanted the police to find the person who killed her husband.
She stated that the abandoned car belonged to a taxi driver attached to the Cell's Taxi Service in Zeelugt.
However, she noted that when they confronted the taxi driver, he claimed that he had rented his car to another man for the day, who had promised to return it at 6 pm but never did.
Around the Web