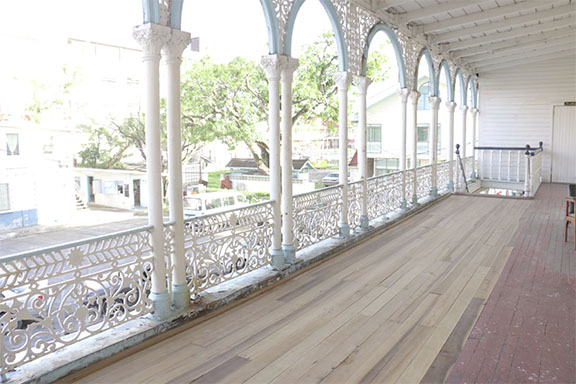 By Thandeka Percival
City Hall, which is the venue for next week's official nominations by parties contesting the upcoming polls, has been deemed a fire hazard by Chief Fire Officer Marlon Gentle, who has advised against any mass gatherings at the venue.
"…[I]t is advised that no mass gathering type of activities be held on the premises until the necessary recommendations submitted are implemented," Gentle wrote to acting Town Clerk Carol Sooba, in a letter dated March 20th, 2015. Gentle's warning was based on a Fire Prevention Inspection that was carried out the same day by the Guyana Fire Service. The inspection, according to Gentle's letter, revealed 18 major issues of concern. These issues include loose and hanging electrical wires in various parts of the building, a southern fire escape staircase that is out of order, and an aging cracked metal staircase leading to the Council Chamber.
The letter also identified hazards, such as a porous roof, severely deteriorated sections of flooring in the Council Chamber, visibly deteriorating support beams and a wiring system which has not been upgraded in over 100 years.
Yesterday, a visit to City Hall showed that repairs have been conducted in a few areas. Repairs have been done on the flooring of the eastern corridor and the deteriorating beams referenced in Gentle's letter have been reinforced. There was, however, no evidence of work being done to address the 25 other recommendations for structural repairs Gentle deemed "necessary" to make the building "Life and Fire Safe." The warning came on the heels of pronouncements from both City Hall and the Guyana Elections Commission that Nomination Day activities will be held at the historic City Hall building on April 7.
Nomination day will see each political party which will be contesting the May 11 elections present their list of nominees to Chief Election Officer Keith Lowenfield. It is expected that this activity will be accompanied by the traditional enthusiastic backing of party supporters.
However, unless there are plans for emergency repairs to City Hall, when the men and women who hope to lead Guyana after May 11 present their credentials to the Chief Election Officer on Nomination Day next week, they will be doing so in a building deemed a "fire hazard."
Sooba told reporters last week that minor repairs were being conducted on the corridor and internal stairs leading to the Council Chamber.
She noted the state of the external metal staircase and corridor leading to the Council Chamber meant that party representatives would have enter the hall from the Avenue of the Republic. Once in City Hall, they will use the western internal staircase to enter the Council Chamber.
According to Sooba, the security services will be counted on to maintain order and set up a perimeter to prevent the entry of party supporters because the building definitely cannot support a large group of people traversing the area.
Around the Web