A Linden businessman is in custody following the seizure of a quantity of cocaine packed among several hundred bags of charcoal in a 40-ft container at Silver Hill, Soesdyke/Linden Highway, Head of the Customs Anti-Narcotic Unit (CANU) James Singh said yesterday.
Singh said there are hundreds of bags in the container and agents are still going through them to ascertain just how much of the illicit drug the man was attempting to ship out of Guyana.
A statement last night from the Guyana Revenue Authority (GRA) said that officers of its Law Enforcement and Investigation Division (LEID) and the Port Control Unit (PCU) of the United Nations Office of Drug and Crime (UNODC) were late yesterday afternoon seeking to ascertain the quantity, weight and estimated value of the cocaine.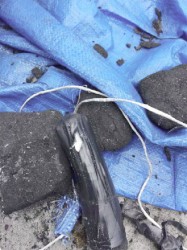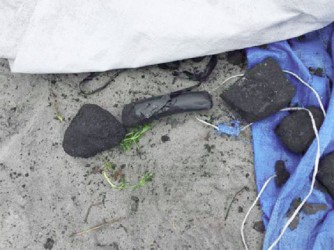 The GRA said that based on information received from the PCU, a joint examination was conducted on the shipment which was scheduled to be exported to the United States after it was flagged for 100% examination on March 11, 2015.
The shipment was scheduled for examination on March 13, at Silver Hill,  in the presence of the GRA's Goods Examination Unit (GEU) and the PCU. However, the statement said that the exporter did not present the consignment for examination on the scheduled date, saying that he was experiencing "unforeseen difficulties".
As a result, the examination was rescheduled for March 30. The GRA said that on that day, a team consisting of Officers from LEID and the PCU went to Silver Hill to conduct the examination.
"During the examination, Officers observed four strange objects in one of the bags which did not (conform) with the description of the charcoals that were declared for export.
As the objects were probed, a white powdery substance emanated. A field test was carried out on the substance in the presence of the exporter and tested positive for cocaine", the GRA said.
The statement added that the examination process was immediately halted and the exporter was cautioned and detained. CANU was contacted and told of the discovery. Upon arrival at Silver Hill CANU Officers secured the goods and proceeded to investigate further, the statement said.
The GRA said that around 2,900 bags were secured in two 40ft containers to be inspected due to the volume of goods and security concerns raised.
Investigations are ongoing and the GRA will provide additional details as they unfold, the statement added.
Around the Web