With April dedicated to sexual violence awareness, an amalgamation of non-governmental organizations gathered yesterday at Carifesta Avenue in front of the Crime Chief's office armed with their placards as they carried out a peaceful protest.
Representatives of Help and Shelter, Red Thread, Citizens Against Rape (CAR), Guyana Responsible Parenthood Association (GRPA), Partners for Peace and Development, AGAPE Network, Caribbean American Domestic Violence Awareness (CADVA), Caribbean One Billion Rising, and Rainbow House all showed up to show their support. The some 40 persons stood in front of the Police Headquarters, Eve Leary.
Roxanne Myers, coordinator of the 'Stand Up' event highlighted the need for more efficient and reliable ways to handle and process cases. "Who can imagine a body can be dumped in a public place like a seawall? That means the perpetrators have no respect for the law and think they can do whatever they want," she stated as she pointed to the urgent need for the police force to take on the responsibility it has been neglecting over the years.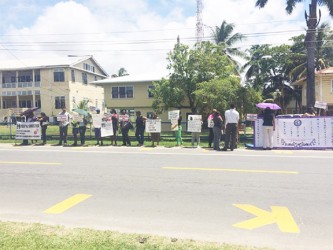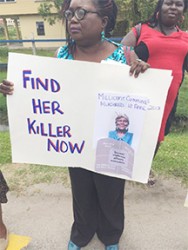 "What has been happening over the years is wholly unacceptable," Nicole Cole, Rights of the Child (ROC) commissioner, stated. She said that in 2010, the conviction rate of rape cases was a mere 1%. "You would think there would have been an improvement in the conviction rate since then but there hasn't, it went from 1% to 0%," Cole exclaimed. She pointed out that Guyana had been flagged for its 22 rape cases that ended without convictions in 2012-2013. She urged that all international and local organizations look into to matter as it is "bringing us to an age of domestic terrorism. And that my brother, is the real offence and it offends us all."
"I am not an activist, I'm a citizen," a participant of the event pointed out as he explained there has been a recommendation for a special victims unit (SVU) since the Sexual Offences Act was amended and five years later there still isn't any word of it.
CAR member Dr Raquel Thomas-Caesar highlighted the need for young boys and girls to be better educated when it comes to sexual and domestic abuse. "People have this idea that only a stranger on the road can hold you up in a corner and rape you, but that's not true. Sometimes it's the people who are closer to you, and even in your own house that these things can happen. The kids need to know what consent is, rape, domestic abuse, they have a right to know and the right to say no," she expounded.
Participants at the activity included the weeping mother of Babita Sarjou, who is still pleading for answers on her daughter's disappearance over four years ago.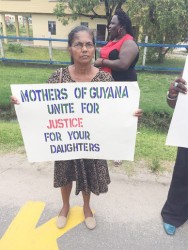 Around the Web