Harold Naurayan, the seaman who was on trial for raping a six-year-old girl, was on Tuesday found guilty by a jury.
Naurayan, 41, of Coopers Lane, New Amsterdam, was on trial in the High Court in Berbice where the majority verdict—eleven to one—was returned to Justice Brassington Reynolds after two hours of deliberation by jurors.
After the verdict, Naurayan's attorney, Raymond Ali, requested a probation report and then applied for bail for his client. He stated that Naurayan had some business to take care of and was not a flight risk.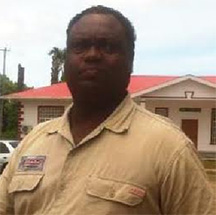 However, state prosecutor Judith Gildharie-Mursalin objected to bail. Justice Reynolds upheld the objection, while noting that Naurayan had benefited from two years of freedom while his victim and her family suffered the agony of the offence.
As he was escorted out of court by lawmen, Naurayan hid his face from the media.
Naurayan was remanded to prison until April 13, 2015, when the court will hear the probation report and plea in mitigation, after which he will be sentenced.
It was alleged that Naurayan committed the offence between February 1, 2013 and April 27, 2013. He had pleaded not guilty and, in a sworn statement, claimed that he was at sea when the offence was committed.
Around the Web