Minister of Education, Priya Manickchand on Tuesday commissioned a nursery school, built to Caricom standards at a cost of $82.3 M and equipped with ramps at the entrances and exits to cater for differently-able children at the No.77 Village, East Berbice, Corentyne.
In her address at the opening, Manickchand described the building as "the most beautiful and modern nursery school in that part of the country", a report from the Govern-ment Information Agency (GINA) said. The school was funded via the Basic Needs Trust Funds (BNTF). Manickchand spoke of the importance of early childhood education saying that government has prioritised this sector, increasing its budget from five to 15%. The administration has undertaken a programme aimed at ensuring that all students are able to read and understand what they are reading by Grade Four. This project is expected to see results by 2020. According to Manickchand, 85% of nursery school-aged children in Guyana are enrolled in schools. This, she noted, is the highest enrolment figure in the entire Commonwealth Caribbean which has resulted from the administration creating the facilities that are necessary to foster access. The Number 77 Nursery School is the 57th such school in Region Six, she said. "80% of the nursery school teachers in Berbice are trained," she said, adding that some time ago teachers had applied and were rejected from the Cyril Potter College of Education (CPCE) for lack of qualifications in one of the core subjects, "but today, the situation is different, as consciously, the PPP/C Administration has been providing for teacher training."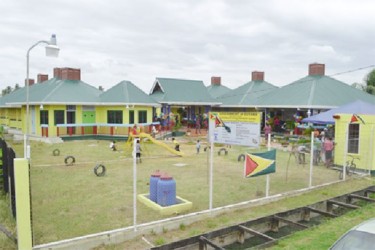 Manickchand further noted that in Region Six there are about 12 nursery age children to a teacher. "We have now brought the number down so much …so a teacher can spend time with the children, so when you know a child is really good you can give them extra work and when the child is slow you can bring them up and that is what having smaller classrooms do…it didn't happen simply because we desired it or we wanted it to happen.
It happened because we had a vision that we want to see smaller classrooms, with trained teachers, with children who were graduating with skill, and we pursued that vision, we funded that vision that your children are benefitting from."
The minister also noted that children were entered into the formal education system in September at three years, three months; six months earlier than previously obtained. This decision was taken after an assessment and the children were taught basic things at home before starting school. She said this policy is not likely to be reversed, unless parents call for its turnaround.
Meanwhile, BNTF representative, Michael Singh said the school is equipped with a sick bay, kitchen, administrative department and washroom facilities among other departments, and has the capacity to accommodate 120 students or 20 per classroom. BNTF is a Government of Guyana programme and is responsible for implementing projects and providing infrastructure for capacity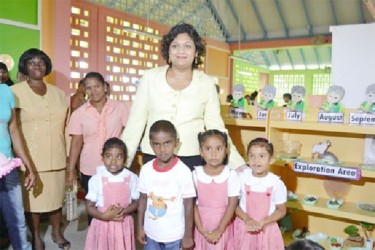 building through funding from the Caribbean Development Bank (CDB).
According to GINA, the contract for the construction of the Number 77 Nursery School was signed in April 2014 and the project completed approximately seven months later.
Around the Web