Although concerned over the state of City Hall, two political groups contesting the May 11 general elections are confident that they will be safe when nomination day activities are hosted at the venue next week.
Fire Chief Marlon Gentle recently declared City Hall to be a "fire hazard" and warned against any mass gatherings at the heritage building.
However, despite the concerns over the dilapidated conditions of the building, both City Hall and the Guyana Elections Commission (Gecom) have, assured the public that nomination day will be held at City Hall next Tuesday.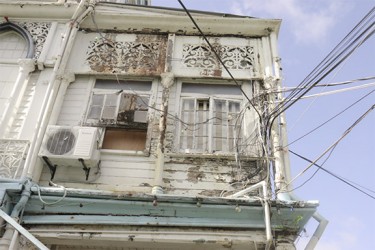 Raphael Trotman, co-chair of the APNU+AFC coalition's campaign, said he believes "all Guyanese are concerned about the overall state of City Hall," while Mark Benschop of the Independent Party stated that he "has always been concerned [as] the City Hall has been a fire hazard for a while."
"We have noted the Fire Chief's concern but we expect Gecom, which has overall responsibility for conduct of elections, will do nothing to endanger any life and limb as it fulfils its mandate," said Trotman.
He further stated that the APNU+AFC coalition "is anxious to present its list of candidates and required legal documents and will be present at any place [and] at any time Gecom requests."
Benschop, while urging persons to be careful, said the Independent Party, while cautious, will go to City Hall to conduct the necessary business.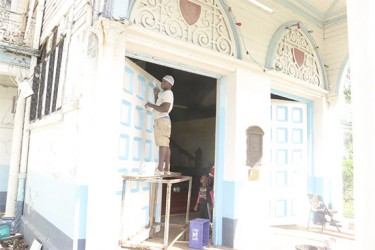 On March 20th, Gentle wrote to acting Town Clerk Carol Sooba advising her that "no mass gathering type of activities [should] be held on the premises." He also deemed the building a fire hazard.
Gentle's warning was based on a Fire Prevention Inspection that was carried out the same day by the Guyana Fire Service. The inspection, according to Gentle's letter, revealed 18 major issues of concern. These issues include loose and hanging electrical wires in various parts of the building, a southern fire escape staircase that is out of order, and an aging cracked metal staircase leading to the Council Chamber.
The letter also identified hazards, such as a porous roof, severely deteriorated sections of flooring in the Council Chamber, visibly deteriorating support beams and a wiring system which has not been upgraded in over 100 years.
These conditions would suggest that nomination day activities, which traditionally draw a large crowd of both party representatives and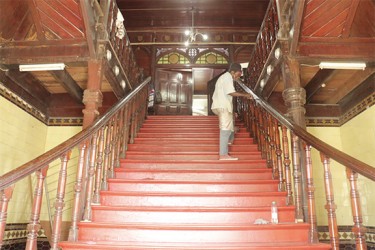 supporters, should not be held at City Hall.
A Gecom statement, issued on Wednesday, said Chief Election Officer Keith Lowenfield told various political party representatives on March 31 that City Hall will be the venue to be utilised for nomination day activities as was previously announced.
Lowenfield noted that political parties wishing to present their respective lists of candidates must enter the compound of City Hall through the western entrance on Avenue of the Republic.
Only a small number of persons will be allowed to enter the compound. According to Lowenfield, this number will be limited to "no more than 20 persons from each political party."
These representatives "will enter the City Hall compound and [then] the Council Chambers of the City Hall to present their respective lists of candidates to Gecom. Upon the completion of the presentation of their respective lists of candidates, political parties and their representatives will depart City Hall using the eastern door of the Chamber and exit the compound through the southern gate at Charlotte Street.
Successful conduct of the activities will depend heavily on security officers from both the Guyana Police Force and City Constabulary being able to maintain order. They are expected to set up a perimeter which will prevent the expected crowds from entering the compound.
Meanwhile, minor repairs are being conducted on the western entrance of City Hall. But they do nothing to improve the condition of this historical structure in the long term. Gentle's recommendations will still require attention after nomination day in order to address the crumbling edifice.
Georgetown Mayor Hamilton Green has for years been calling for the immediate repair and restoration of the building and Sooba has also said it is necessary that significant repairs be conducted.
Trotman added his voice when he noted "that the APNU+AFC Coalition trusts that the relevant authorities will take the Chief's comment on board and ensure [City Hall's] immediate and urgent restoration because it is a national treasure."
Around the Web