Scotiabank Guyana has hailed the contributions of outgoing County Manager Amanda St Aubyn noting that profits doubled during her seven-year tenure
In front of a packed audience at the Pegasus Hotel on Monday evening, St Aubyn was praised for several innovative measures she implemented since her appointment as at Scotiabank Guyana's Guyana Country Manager in 2007.
Scotiabank Senior Vice-President Caribbean South, Anya M Schnoor, said that under St Aubyn's leadership Scotiabank Guyana doubled its before tax profits to $3.5 billion and increased its total assets from $33.2 billion in 2007 to $66.2 billion in 2014. Other achievements included the launching of the Scotiabank Bright Future Programme, Mobile Telephone Banking, Implementation of Small Business banking and the expansion of the two Georgetown branches.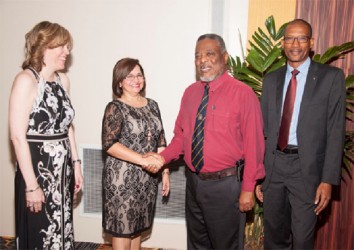 As a result of its financial performance and corporate social responsibility achievements, Schnoor said that the bank has won numerous awards locally, and internationally including Bank of the Year in 2008, 2009, 2011, 2013 and 2014; Global Finance Magazine Best Consumer Internet Bank in 20110, 2012, 2013 and 2014 and Global Finance Magazine Best Corporate Internet Bank in 2013.
In her address at the gathering, St Aubyn said she was privileged to have "grown up" in Scotiabank and was proud of Scotiabank Guyana's many notable achievements under her seven-year stewardship. "While total assets and profitability doubled over the period, it has been achieved with 50% growth in human resources as the bank continued to significantly invest in the future and focus on technology," she said.
In bidding farewell to the bank's customers and other stakeholders, her colleagues, friends and supporters, St Aubyn said she was grateful for their unstinting support. She also expressed confidence that her successor Raymond Smith "will take our operations to the next level."
 'Guyana is where the opportunities exist'
Smith comes with over three decades of experience in Scotiabank Trinidad and Tobago. Having joined the bank in 1983 as a Management Trainee, he has held progressively senior roles in audit, branch management, small business banking and lending.
In his address, he praised Guyana's hospitality and the support he has received from the Guyana team, customers and his colleagues after having been here just about four weeks now.
"As a banker with goals and targets to meet, where else in the Caribbean would you want to be? …You see my research had informed that Guyana is where the opportunities exist," he said.
In addition to the several consecutive years of economic growth in Guyana, Smith noted that last week for the first quarter of 2015 Scotiabank Guyana was again the Best Performing Retail bank in all of Scotiabank's International operations. Guyana received similar recognition and accolades in 2014, he said, noting that "Scotiabank Guyana is a world beater. So Amanda is handing over a solid performing bank and for this, I am most appreciative."
Outlining his agenda for his new post, Smith said his first priority is to ensure that Scotiabank Guyana continues to hold pride of place within Scotiabank by delivering on its core purpose which is to be the best at helping its customers become financially better off.
Smith also heaped praise on the bank's commitment to Corporate Social Responsibility. "It's an opportunity for us to build better relationships with all our stakeholders by paying closer attention to how we fulfil our social, economic, environmental and ethical responsibilities," he said.
"From 2010 to 2014, Scotiabankers in Guyana have given close to 8000 volunteer hours and undertaken some 272 projects, benefiting over 83,000 children and 10,000 adults.
They have raised almost $5 million in the last four years while the Bank has contributed close to $57 million to these Bright future projects," he added.
Around the Web