Women's activist Bonita Harris is now hospitalised after being attacked by a robber at her home at Subryanville on Wednesday.
Harris was taken to the Woodlands Hos-pital for treatment after the attack and was later admitted to the facility. She received injuries to her head after her attacker picked up a wood from behind her door and dealt her a blow to the head before escaping with an envelope of books she had received from a friend.
A source close to Harris stated that she was in the bathroom on the upper flat of the house when she heard Harris screaming her name from downstairs. She said she rushed down the stairs and saw a bleeding and terrified Harris.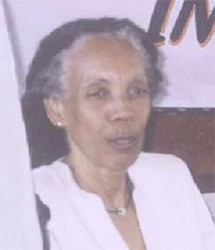 "When I asked her what happened, she said she was shocked… that someone was in the house," the source said, before adding that Harris had gone to her gate to speak with a friend, who gave her the envelope of books.
The source stated that Harris said she returned to the house and when she was about to close the downstairs door she was hit on the head and the man grabbed her envelope. "He probably saw when she collected the envelope but he didn't know what was inside," she said.
Around the Web