A desperate three-day search for missing nine-year-old Shaquan Gittens came to a tragic end yesterday when his body, half naked and bound, was found in a trench running alongside a dam just off of Cane View Avenue, South Ruimveldt.
Gittens, of 2950 Well Road, North Ruimveldt, was clad only in the t-shirt he was last seen in and his hands were tied together with rope when his body was discovered around 3PM. From all indications, he was the victim of a sexual assault prior to his death.
The area where the body was found dumped is isolated although used as farmlands. It leads from South Ruimvelt to Houston, East Bank Demerara. The spot where the lad was found is about a mile from Cane View Avenue.
At the boy's home, a large crowd had gathered and there were many teary eyes as persons openly condemned the brutality committed on the child. His mother, Doysha Gittens, wailed uncontrollably as relatives and friends attempted to console her. Doysha is a teacher of South Ruimveldt Park Primary, where her son was a Grade Four student in the class she oversees.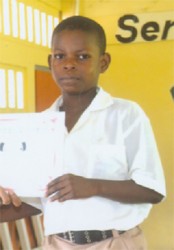 An aunt of the boy, Pamela Bacchus, told Stabroek News that earlier in the day someone called the security guard at the boy's school and informed her that a body had been found. The guard, not knowing the identity of the person found, contacted teachers of the school. A visit to the area, she said, confirmed that it was Shaquan.
She said he was found "far in" and she opined that he had to have been taken there. The distraught woman added that given he was naked from the bottom down, she assumes that he was murdered. She said they were able to identify him by the top he was wearing. His pants and footwear were not found.
Shaquan had gone missing since last Wednesday. He went to fly his kite nearby with friends and then returned home but disappeared afterward.
Bacchus said she found it strange that he would have returned home with the kite and then go out back again. In the days after he went missing, she noted, they never suspected that he had run away as he had never done so before. She said at first they thought that he was just playing tricks but then after the first night passed they knew that something was wrong. She suspected that the child probably knew the person who snatched and subsequently killed him.
'Suspicious call'
After Shaquan was reported missing, the family received calls from a male, from a listed number, who indicated that the child was seen wandering at Crane, West Coast Demerara.
Bacchus and another aunt, Vanessa Griffith, said they did not share this information with the police because other leads given to them were not followed. She said instead the family acted on information that was received.
Griffith said that a team of relatives went and searched the entire Crane community but "came up empty handed." They also went to the Vreed-en-Hoop junction, where some persons indicated that they had seen a child matching Shaquan's description. Information from that area led them to some people living at the back of Vreed-en-Hoop and, according to Griffith, one woman told them that the picture of Shaquan looked similar to the child they saw but the other child was "more built."
Bacchus said the person who called appeared very concerned. "When we reach over there and I called the guy, then he said that he can't come, he is at work… that we can contact him tomorrow," she, however, said, her voice cracking with emotion. After then she was unable to find the number in her call log.
The two women strongly stated that the child did not know anyone in the Crane area and would have been unable to travel there alone as he had no money. They indicated that this was the reason why they did not follow the lead initially.
However, they decided to do so after the man continued calling. "He kept insisting and was concerned that he did see the boy. He said that he saw the boy there and was so convinced that it was him," she said. They said that they then assumed that someone had taken the boy over there and he was left wandering around.
They urged the police to launch a thorough investigation.
Around the Web