By Jeff Trotman
The killing of businesswoman Shevon Gordon, 44, outside her home on Saturday evening has stunned the Linden business community.
News circulated like wildfire about the shooting robbery of Gordon shortly after the incident and a number of well-known businesspersons rushed to the Linden Hospital Complex to view her body.
Popularly known as Lizzie, the beverage vendor had disembarked from her canter in front her One Mile home shortly after 7.00 PM, when she was approached by two men, who demanded the plastic bag she was carrying. One of the men fired two rounds in the air while Lizzie struggled with the other. According to reports, she was shot while struggling to maintain possession of the bag.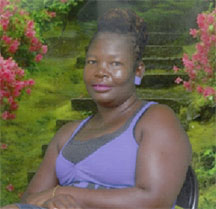 Gordon's husband, Elon, was too distraught to give details of the incident when Stabroek News visited their home yesterday. Popularly known as `Planka', Gordon's husband, a scrap iron dealer, said that he was lying under his truck doing some repairs to it when his wife arrived home and he heard gunshots. He said that when he rushed from under the truck he saw two men, who he did not recognize, going away from the scene with a plastic bag.
Before `Planka' moved from under the truck, his 23-year-old son, who had rushed out of the yard to assist his mother, sustained a gunshot to his thigh. `Planka' said their son received treatment at the Linden Hospital Complex and "the wound is not too serious". Planka said that he and his wife have six children, four boys and two girls. He said one of their sons, Patrick, is twenty-six years old and is a member of the Guyana Defence Force.
Lizzie's kil-ling comes in the wake of a number of robberies in Linden over the past month and the town's business community is asking who's next. A week earlier, a popular general store, "Saddam", in One Mile, was robbed at gun-point. In the previous week, the reputed wife of the businessman, who died last year when his vehicle plunged off the bridge, was robbed as she disembarked       her car at their home in South Mackenzie. Around the same time, robbers stuck up the patrons of a drinking spot on Blueberry Hill and took away all their money before forcing the proprietor to the dwelling upstairs and robbing him of jewellery and other valuables.
Apart from the business community, several Linden residents have expressed shock at the way Lizzie died. They attested to her hard working nature and jovial personality. Many recalled that her mother was a vendor in the Wismar Market and as a school girl, Lizzie would often go to her mother's stand after school and change into regular clothing to assist her mother. One person in grief said that Lizzie sold coals on Burnham Drive and even picked up empty bottles, which she sold to make a living before embarking on selling beverages.
At the time of her death, Lizzie ran a thriving beverage business in the heart of the busy business area in Mackenzie on Potaro Road in the vicinity of the Linden/Georgetown Bus Park and Pine Street.
Around the Web