Andre Hardy will be spending the next two months in jail after he slapped his partner, who told him to do what he wanted after he reprimanded her for emptying his bank account.
Hardy, 35, of A and B Princes Street, Lodge, appeared before Chief Magistrate Priya Sewnarine-Beharry on Thursday at the Georgetown Magistrates' Court 1 and pleaded not guilty to a charge that he assaulted Jenny Henry on March 31. After the matter was transferred to the court of Magistrate Annette Singh, he opted to change his plea to guilty.
Prosecutor Adduni Inniss told the court that Hardy was in the habit of abusing his partner and on the day in question he choked her, punched her about her face and body and dealt her several lashes to her head.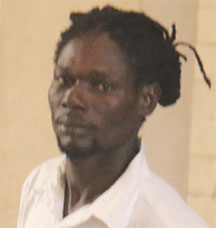 However, Hardy sought advice from the court to enforce a protection order against the Henry for his safety.
He accused her of threatening him with knives and further provoking him by challenging him to be a man and standing up against her to fight.
Hardy said that he wanted a complete end of the relationship with the woman, who is 50, while he contended the she was stressing him out.
On the day of the assault, he said he went to withdraw money from the ATM but he learned that his account was empty.
He then returned home and asked Henry why she had withdrawn all his cash without his permission, which prompted the woman to tell him to do whatever he wanted after she used the cash to pay for their rent. She said she was not going to be thrown out of the apartment due to outstanding rent.
"I went home with a smile pon me face and meh say, 'J, wah you had to go and tek all the money from bank book and you know that a gat things fuh do?'" Hardy recounted.
He said the woman's response caused him to deal her two slaps to her face before she grabbed two knives and challenged him to a fight. He added that he ignored her and withdrew to his bedroom, where he locked the door, he said.
The next day, Hardy said, he woke up alone in the house and was heading to work with bread and water for his lunch but he was greeted by police officers on the road who told him that he was under arrest.
"A fed up… ah don't have no money fuh bail if a get bail, 'cause this woman don all meh money and when a come home from wuk the sink full with wares and nothing nah do in the house," Hardy stated.
After the magistrate listened to Hardy's story, she informed him that the crime could carry a prison term of eighteen months imprisonment. Hardy then began to beg the magistrate for mercy as he noted that Henry had no feelings for him and he has children to care for. The magistrate eventually sentenced him to two months in jail and advised that he obtain a protection order.
Around the Web