The Ramlakhan & Sons Rice Mill at Exmouth, Essequibo Coast will fully streamline its new US$72,000 rice husk gasifier today and a visit is set for Thursday by the Millers Association.
Owner of the establishment, Ramlakhan (only name) told Stabroek News on Saturday that in all, the investment was over US$230,000 and he felt the cost saving is worth it. He emphasized that six gallons of diesel fuel was burned hourly during the milling process prior to the gasifier. Since the three test trials the plant has successfully reduced the use of fuel to less than 1.5 gallons while providing anywhere from 60% to 70% of the rest of the energy requirements. Ramlakhan told Stabroek News during a tour of the plant that 350 to 400 kilograms of rice husk is burned to release energy and carbon dioxide. He noted that the plant will have enough husk to sustain itself and continue working.
He added that a visit by the Millers Association is planned to showcase the machine and its potential to other millers. In addition, he said that one of the waste products produced through the five-step filtration system is rich in magnesium as well as other minerals which can act as a fertilizer.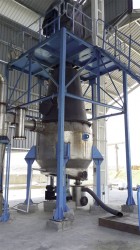 The rice farmer and miller stated that the waste product is being collected and will be used on a portion of cultivated rice fields which spans 200 acres.
The millers' visit on Thursday will allow Ramlakhan to showcase the energy conservation potential of the gasifier. He said that in a sector that is fraught with declining international market prices, lowering energy costs and consumption is imperative to remaining viable and competitive.
Ramlakhan said that the machine requires minimal maintenance and will operate continuously until the end of the first harvest at which point it will be cleaned and stowed until the second crop is harvested. Ramlakhan stated that earlier this year he had become aware of the technology through The Energy and Resources Institute (TERI) of India and made contact with the firm.
A technician provided by TERI will be on staff until the end of the month and is currently training three employees to service the machine.
The initiative stems from the government's low carbon development strategy.
In a release in March when the gasifier was first tested, a Government Information Agency press release had stated that six rice mills underwent energy efficiency studies and from that study a bankable model was done. The release had also stated that the Agriculture Ministry would continue working toward an across-the-board conversion to gasification.
Around the Web