The puns overflowed. The soup was in the cup. Germans taking over. Heil Ramotar. If he was fazed, the newest PPP convert didn't show it and strolled down Regent Street and into City Hall, towering over Donald Ramotar and Elisabeth Harper like Soup-aman. He was in and on the list.
As days that you put forth your list of candidates for top positions in the country go, this one was like being served eel soup when you expected cow heel soup; it was a soup-rise…just not the filling kind.
The PPP list was filled with relatives, family, kinfolks and Clinton Urling. The Benns, Persauds, Ramotars, Singhs, Luncheons with a Jagdeo and a Selman thrown in for spice. Haven't they heard that too many cooks spoil the broth?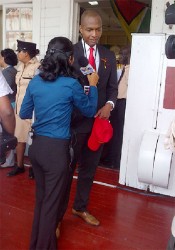 And except for the eminent old lawyerly guy, pretty much ignored by everyone, Jean La Rose (absent), and Simona Broomes, the APNU+AFC alliance list of candidates did not have anyone particularly new or exciting. Oh ye of ladle faith.
Except Lisa Punch! Lisa Punch is exciting! She moved swiftly down the street, sleek, windblown, smiling, leading a contingent of Alliance supporters, shouting for change. Except, she wasn't on the list.
There was a party for everything. The reds, the greens, one for the "ghetto people," another with a cow as a symbol, another with a cat and one that was the "real PNC."
The Lion of Judah shall bring change, proclaimed Ras Leon Saul of the alphabet-soup like Healing The Nation Theocracy Party (HTNTP) better known as the Rasta party. (Would vegetable soup become a national dish if they ever get into power?)
He said that the HTNTP represents the "grassroots" people. "In other words we represent ghetto people," he said, adding that they feel like David going against Goliath. He made it clear that their David wasn't going against the other David (Granger), as he said that they also want the APNU+AFC alliance to win. "We're going to be bringing out the Rastafarians whether they like it or not," he said. Heil Saul!
"We represent Rastafari," he said. Jah Rastafari, he shouted as he and his fellow Lions of Judah descended the stairs.
Jah Rastafari!
Marissa Nadir with her nose stud was there for the TUF. Slipped in like the breeze and out again. So silent she could have been Elisabeth Harper at a PPP press conference.
The United Republican Party promoted love, honesty, and truthfulness. The party symbol, the cow, looked ready for the soup pot. Maybe, it is the party of tomorrow as mostly youths formed its contingent with the leader Vishnu Bandhu looking positively ancient next to them.
The communist-sounding Organisation for the Victory of the People (OVP) turned up with its leader Gerald Perreira proclaiming that his party seeks to build on the legacy of Burnham. "We are the real PNC," he declared.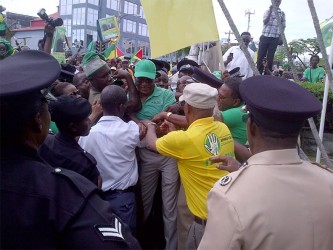 To one repetitive song, over and over, the PPP marched down Regent Street. In City Hall, red binder after red binder was opened with the lists. Didn't Jagdeo say he wasn't going to be on the list? He was. Hinds for his last (everything is last for him these days) Nomination Day as PM looked contemplative. Elisabeth Harper's smile finally looked genuine and with Deolatchmee, you take it as it is.
There was Juan but no Jesus who, given that his allegiance is supposedly to the PPP and having risen a couple days ago, the least he could have done was put in an appearance.
"We want change," was the shout of APNU supporters. Everyone likes a show and APNU provided one. Thousands of persons streaming down the street, a windblown Lisa Punch dashed breathlessly into City Hall, a drone in the air. If Granger never becomes President, it was his moment to feel presidential. In crowds, he always has a security cordon around him. APNU supporters are pushy. This time, Granger was pushed and shoved and was manhandled as his security team forced him into City Hall where the representative of the list Harold Lutchman awaited.
Chief Election Officer Keith Lowenfield started promptly at 1:30 while GECOM Head Dr Steve Surujbally calmly surveyed his domain for the day, cool as a cat.
Town Clerk Carol Sooba in bright red with Mayor Hamilton Green in green made it feel a bit like Christmas in City Hall. Interesting questions of who was Santa and who was the Grinch? It was an overcast day with intermittent drizzle. A soupy kind of day.
Much like the joke, I imagined Dr Surjubally being served with soup at City Hall and being dismayed when it came.
"What dotishness!" he would say. "What is this?"
"It's bean soup," the response would be.
"I don't care what it's been," he would reply. "What is it now?"
Around the Web