Amidst heavy fanfare, the opposition coalition APNU+AFC yesterday presented its candidates lists for the 2015 general and regional elections, but the notable exclusion of former parliamentarian Vanessa Kissoon overshadowed some new additions.
Representative of the List Dr. Harold Lutchman and Amerindian rights activist Jean La Rose and Deputy Mayor Patricia Chase-Green are among the new candidates fielded from the coalition's ranks. Another key APNU figure, Sharma Solomon is only on the regional list for Region 10.
With heavy security, the coalition's presidential candidate David Granger had to wrestle through the huge crowd of supporters assembled outside City Hall before he could make his way to accompany Lutchman to present the lists.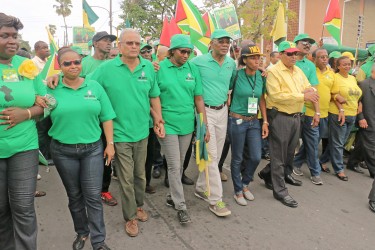 Granger arrived in City Hall at around 2:45PM, following a march from the Square of the Revolution, and met thousands of persons who were waiting to join the contingent at City Hall.
The drama then began as shouts by Granger's security detail were drowned out by the exuberant supporters, who were shouting his name and wanted to accompany him into City Hall. This caused the Guyana Police Force detail to lock the gates but Granger still managed to manoeuvre himself into the compound.
There, he made his way up the City Hall stairway to the continued bellowing of rhythmic chants of "Change is Coming," "Out with the PPP," and "David and Moses," before submitting the lists with his delegation to Chief Election Officer Keith Lowenfield.
After the formal submission was completed, Granger would affirm to the press that Kissoon was not on the list, while explaining that she did not meet the party's criterion. "We have a balanced list, she served two terms," Granger said.
Asked by Stabroek News if the new criteria of two terms would now be applied to everyone, he said, "We have a list of criteria and those criteria were applied because of the work ahead of us."
However, when pressed on whether Kissoon was told that she would not be on the list, Granger would only say, "We selected persons based on that list of criteria."
Kissoon, who is a popular member of APNU-stronghold Region 10, has had skirmishes with the leadership of the PNCR—the main constituent of APNU—in recent times.
Granger also commented on the PPP/C's inclusion of former President Bharrat Jagdeo on its national list. "That is a liability for the PPP. They will have to deal with that. I don't think people want to hear… from Mr. Jagdeo at all," he said.
"Mr. Jagdeo has been known for saying things which are not consistent with the truth," he further went on to state.
Meanwhile, Granger pointed out that he was honoured to work alongside Lutchman. "He has always been associated with civil society and he is a just and honourable man. I have no problems at all having him as the Representative of the List. He knows his task and it's a consensual and the entire coalition is happy with him," he added.
Lutchman, in an interview after the presentation, told Stabroek News that he was elated to serve his country, while also signaling that he would also seek the input of the people.
"I will be in a position to be of some contribution although it won't be entirely within my grasp. Other people, the population at large, will have to respond in a certain way and we will see how it goes. They have to realise what some of the issues involved are, look at the attitudes they take in some of these matters and decide whether there is progress or retrogression," he said.
"I will be looking to the public for guidance also because you can never exclude the public when you talk governance. When you dictate to people, it doesn't work. That's why we have democracy and democracy connotes input from the population at large," he further stressed.
Lutchman said he believes that there should be involvement and dialogue between APNU+AFC and the PPP/C if the former were to win the upcoming elections.
He explained, "You expect input from them and when they make recommendations and solutions, it's not that you should say, 'This is my position. I am not going to change.' People talk about government and opposition and the government is appointed under the constitution and so does the leader of the opposition… very often, people tend to forget it and the government feels it's a proprietary system and feel they won the system."
He added, "That can't work and to a large extent that has been manifested in Guyana and we have to change that. There is also a need for fundamental constitutional changes but that is another story."
Lutchman said he expects there will be peace and quiet where governing of the country is concerned and none of the "parochialism."
The coalition's National Top up List has 75 names and is compiled from the merging of names from APNU's 2011 list with AFC's 2011 list. It has many known persons from both sides of the coalition.
These include anti-human trafficking crusader Simona Broomes, who was on APNU's 2011 list; attorney Nigel Hughes, who is the AFC's Chairman; AFC executive Cathy Hughes; former son in law of the late Forbes Burnham and AFC executive Dr Richard Van West-Charles; APNU executives Basil Williams, James Bond, Joseph Harmon, Ronald Bulkan and Winston Felix; city jeweller Hans 'Dominic' Gaskin; AFC's Region 10 Campaign Manager and University of Guyana Industrial Relations Officer Audwin Rutherford; AFC executive Michael Carrington; AFC Region 8 RDC Councillor Mohammed Gafoor; Allon Fernandes; and Abel Seetaram.
According to the coalition agreement, Granger is the presidential candidate, while AFC vice-chairman Moses Nagamootoo is the prime ministerial candidate. There is also an agreement on a 60/40 cabinet split in an alliance government, while AFC is also assured of 12 seats in the National Assembly.
Around the Web