A drinks vendor, who is accused of a robbery in the city, was on Tuesday remanded to prison.
Leevan Cameron, 22, of New Amsterdam, denied the charge when it was read to him by Magistrate Fabayo Azore at the Georgetown Magistrate's Court 5.
The allegation against Cameron stated that he robbed Azizkeomar Ganga of a quantity of valuables amounting to $30,000 in value.
Attorney Paul Fung-A-Fat made an application for bail to be granted in a reasonable sum for Cameron. Fung-A-Fat told the court that his client sells soft drinks for a living and on the day of the robbery a car drove up and Cameron was pointed out as the person who committed the crime. However, he added that while Cameron was arrested, the victim later said he was not the right person.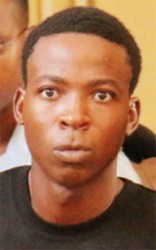 Fung-A-Fat expressed his dissatisfaction at the poor police investigations carried out, while noting that a surveillance camera from the store in front of which his client sells has footage and it will be reviewed.
Bail was refused and the case will be called again on April 13 before Chief Magistrate Priya Sewnarine-Beharry.
Around the Web