Kevon Critchlow, the father of the infant who died a day after being vaccinated at the Plaisance Health Centre (PHC), was yesterday charged with storming the facility with members of a funeral procession and threatening two nurses.
"We still grieving and this is wha happen," Critchlow said sadly after he was charged. "We cooperating with the investigation and yet still they want jail we."
He was charged with threatening nurses Latoya Kellman and Tenisha Henry.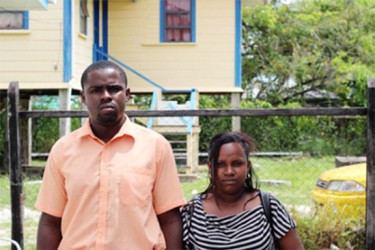 Critchlow, 25, of Lot 40 Goedverwagting, East Coast Demerara, pleaded not guilty when the charges were read to him at the Sparendaam Magistrate's Court.
According to Prosecutor John Singh, Critchlow was a part of a funeral procession being held for his dead son, Kevon Rodwell Critchlow, when he along with others allegedly stormed the clinic with cutlasses and the child's casket in hand.
Singh said the two nurses who were on duty at the time got fearful for their lives and ran for cover.
"Dem kill meh baby, let dem spill blood today," Critchlow allegedly said, according to Singh.
The prosecutor added that a report was made and Critchlow was subsequently arrested.
After no objections, Magistrate Zamilla Ally placed Critchlow on $10,000 bail for each of the two threatening behaviour charges read against him.
Meanwhile, outside of the courtroom, Critchlow said when his son's casket was taken to the health centre, he was two buildings away and was being comforted by friends and family. He said it was a girl and boy who were in the clinic and not him.
Suemede Eastman-Critchlow, the mother of the deceased child, said her husband did not even lift the casket so he could not have taken it inside the health centre.
She also said the persons who went into the facility did not have cutlasses. She said they used their hands to hit a table and asked the nurses to come outside and view the dead child's body.
On Wednesday, March 18, Eastman-Critchlow took her five-month-old child to the health centre to be vaccinated.
However, once he was back at home the infant slept for an unusually long time, developed a fever and began bleeding from his nose and frothing at the mouth.
When Eastman-Critchlow subsequently took the boy to a hospital, he was pronounced dead on arrival.
A post-mortem examination afterward determined that he had sustained a brain haemorrhage. However, no conclusive cause of death was given and fluids from the infant's body have been collected for further testing.
His family believes that he was mistakenly given the vaccines meant for his five-year-old cousin. (Rae Wiltshire)
Around the Web