Former state witness Aszim Shivgobin is now facing a perjury charge after his admission that he lied during testimony caused the collapse of the state's case against accused cop killer Salim Bacchus.
Shivgobin was arrested on Wednesday in the New Amsterdam High Court after he admitted to lying while testifying at a lower court in the preliminary inquiry into the murder charge against Bacchus even though he had sworn to tell the truth.
Bacchus was charged with killing policeman Jirbahan Dianand.
Shivgobin 18, of Number 76 Village Housing Scheme, appeared before Magistrate Charlyn Artiga in the New Amsterdam Magistrate's Court, where the perjury charge was read to him.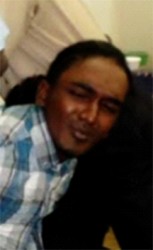 He was not required to plead to the indictable charge, which states that between December 6 and December 17, 2012, he wilfully committed perjury in order to procure the conviction of Bacchus, who was charged with murder.
Attorney Charrandas Persaud entered an appearance for Shivgobin and made an application for his release on bail.
He emphasised that his client was not a flight risk, while noting that he had attended court on all occasions after being granted bail in another matter.
Prosecutor Sergeant Phillip Sherriff objected to bail, saying that the accused might not return for trial. But the objection was overruled by Magistrate Artiga, who set bail at $500,000.
Shivgobin along with his brother Azam Shivgobin and Doodraj Dass had been previously charged with attempted murder and armed robbery, which was allegedly committed on Corentyne taxi driver Jermaine Rover in November 2012.
Aszim Shivgobin, who was 15 at the time, was also charged separately over possession of a firearm.
Although the trio was later committed to stand trial in the High Court, Stabroek News was told that after Shivgobin became the state's key witness in the trial of Bacchus, the charge was discharged.
Shivgobin, scheduled to be the first of 13 witnesses called by the prosecution to give evidence against Bacchus, told Justice Franklyn Holder and a jury that he had lied during previous testimony in the magistrate's court because police had pressured him.
"I was forced to tell that story because Sergeant Johnson and Corporal Caesar tell me to say that Uncle Salim shoot the policeman and they gon charge me for murder, and I gone go to jail for the rest of my life… I came here today to speak the truth. Nobody force me to do so," he declared.
Under cross-examination, he maintained that he was forced by police to testify that his "uncle Salim killed the policeman." He also stated during cross-examination, when he told the police he could not do it, they threatened to "charge him with murder and he would have to spend the rest of his life in prison."
After his testimony, state prosecutor Natasha Backer closed her case and defence counsel Mark Waldron then made a no-case submission, which was upheld by the judge.
On September 14, 2012, Dianand was discovered dead in his car, at Jackson Creek, Corentyne, which was parked on a lonely road two miles from Moleson Creek. He had been shot twice. He sustained one wound to his forehead and the other below his left ear.
Around the Web