Several new PPP/C candidates yesterday defended their decision to align with the ruling party for the upcoming general and regional elections, while emphasising their belief that it is committed to the progressive development of the country.
The representatives defending their affiliation with the ruling party were former opposition member Peter Ramsaroop, former APNU parliamentarian Africo Selman, former AFC executive member Sixtus Edwards and newcomers to the political stage Roshini Boodhoo and Sarah Browne.
Olive Gopaul, who moderated a joint press conference at Freedom House yesterday, referred to the new converts as "talented and reputable individuals who are choosing to embrace progress." She condemned what she termed "severe criticism" of these individuals, while stressing, "We have a right to choose; it is our democratic right to choose."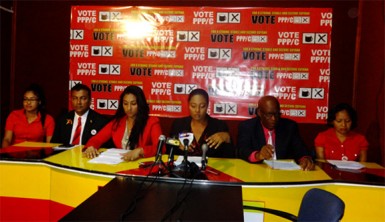 Ramsaroop, speaking specifically about criticism of Clinton Urling, called him a prime example of a young entrepreneur who should be congratulated instead of chastised.
Calling for this to be a time where we respect our brothers and sisters' choices and work together to move forward, the nominees led by Gopaul spoke of their belief that the PPP/C is committed to the progressive development of Guyana.
Edwards and Selman spoke of their disillusionment with their former groups and expressed the view that the PPP/C's track record shows that it is committed to taking Guyana where it needs to be.
"The record of the PPP in government is transparent," declared Edwards, while Selman asked youth not to be deceived by the coalition slogan, "it is time". "It is time for what?" she asked.
The PPP/C, Ramsaroop held, is a party that continues to change to ensure it develops Guyana to the next level. He said he has spent money trying to find corruption in the ruling party but has found no evidence of it. He acknowledged that there is a perception of corruption which must be addressed and said President Donald Ramotar also recognises this. "President Ramotar is calling for a separate unit to deal with perceptions of corruption," he said.
He considers his own invitation to be part of the PPP/C national list a call for all members of the list to speak out. "Those who know me know that if I see it, I'll say it… so he [Ramotar] is saying to all of us if we see it tell him and if we can prove it he'll fix it," he added.
When asked to address those youths who felt left behind by the administration, Gopaul said she was not aware of any portions of young people who are left behind. She sees opportunities being put out there by the government. It is the responsibility of the young minds, their parents and communities to prepare them to be able to seize these opportunities, Gopaul noted.
Boodhoo, who consistently professed to represent "the young generation," emphasised her belief that the PPP/C is the "only party capable of securing a prosperous destiny for all Guyanese." She also said she wanted to be an example that undecided youth will emulate. Ramsaroop noted that a young person seeing this progress and opportunity for development needs to say "let me jump on that bandwagon."
Browne, a young teacher, noted that the progress and opportunities of which she speaks is what she has seen and lived as a person growing up in the interior. The PPP/C leadership, she said, knows that Guyana is wide, with young people in all different regions who must be given opportunities. It is this spreading of opportunities across the country which inspires her to support the PPP/C, she added.
Ramsaroop, in closing, spoke of the figurative marriage between the APNU and AFC. "It is said that they got engaged on Valentine's Day and married on Nomination Day but they will definitely be divorced on Election Day," he professed.
Around the Web