A mechanic, accused of stealing a mini bus, was on Thursday granted his release on $100,000 bail after his lawyer claimed that the owner had turned over the vehicle to remove parts that he could not pay for.
Yogeshwar Bisnauth, 55, of Campbellville, Georgetown was arraigned before Magistrate Judy Latchman at the Georgetown Magistrates' Courts.
The charge against him stated that on April 3, at Alexander Village, he stole a Pit Bull mini bus, valued $4.7M, as well as a $7,000 bottle oil, a $7,500 box brake pads and a $1,400 filter, which were all property of Dominque Jackson.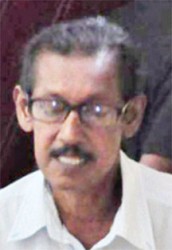 Prosecutor Renetta Bentham, in her objections to bail, stated that Bisnauth orally admitted to the allegations that were put to him by the police. She added that Bisnauth was also in possession of a key which was cut for the mini bus. The vehicle was recovered but the other articles mentioned in the charge were not, the prosecutor further said.
However, Bisnauth's attorney told the court that her account of what transpired differed. She said Bisnauth had done work on the minibus for the complainant, who had owed him a total of $700,000. After repeated promises by the complainant to pay the debt failed, she added, Jackson handed over the bus to Bisnauth, instructing him to remove the parts which he had placed in the vehicle.
In seeking bail, the attorney noted that Bisnauth has no criminal record.
The magistrate subsequently set bail at $100,000, while the matter was transferred to Court 1 for April 15.
Around the Web