A woman was yesterday remanded to prison after she appeared in a city court charged with 15 counts of forgery and embezzlement.
Jashodra Bahadur, 37, of Lot 18 Block CC Mon Repos, East Coast Demerara, was only required to plead to one of the 15 charges when she appeared before Magistrate Judy Latchman at the Georgetown Magistrates' Court 3.
She entered a plea of not guilty to the single count, while she was not required to plead to the others.
It was alleged that between August 28, 2014 and October 31, 2014, Bahadur, with intent to defraud, forged a number of New Horizon Incorporated bills, amounting to $484,968, proporting the said was issued to Roti Plus, knowing it to be forged.
It was also al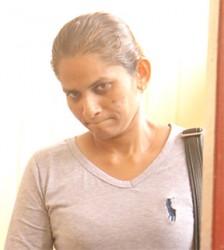 leged that between the same periods, the accused, while being a clerk or servant at New Horizon Incorporated, fraudently embezzled $215,067 in cash.
Prosecutor Deniro Jones objected to bail on the grounds that while on bail for offences of similar nature Bahadur committed the crimes. Jones also said that between 40 and 50 more charges of the same nature are likely to be laid against Bahadur from different entities.
The court also heard that prior to her arraignment yesterday, Bahadur was arraigned on over two dozen charges of forgery, for which she is being tried. For these matters, she was placed on $2.6M bail.
Attorney Latchmie Rahamat made an application for bail to be granted while noting that the offences were bailable. Rahamat added that although Bahadur has matters of a similar nature before the court, she is innocent until found guilty.
Despite the lawyer's arguments, bail was refused and the proceedings were adjourned to April 17, when they will be heard by Chief Magistrate Priya Sewnarine-Beharry.
Around the Web