"It is not the end of the road… you can be an entrepreneur," says Tracey Bailey, the owner of Tip Top Beauty Salon in Festival City.
She is one of the 21 women, most of whom are single parents, who participated in a four-day Women's Entrepreneurship Support workshop aimed at better equipping them for business.
The workshop, which was the result of a partnership between the National Commission on UNESCO and Youth Challenge Guyana, was aimed at improving the women's capacity to reduce debt and increase revenue for their businesses.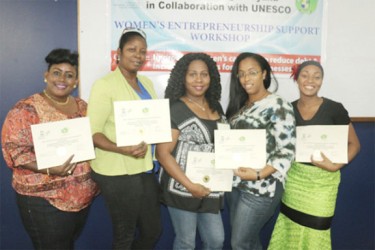 At a short closing ceremony yesterday, Chriseana Ramrekha, Programme Manager and Dimitri Nicholson Executive Director of Youth Challenge Guyana presented certificates of participation to the women.
Most of the women already own businesses such as catering services, salons, groceries, among others.
Bailey, who spoke with Stabroek News, urged single mothers to be inspired by the initiative and take a step forward in achieving their own businesses.
For her, learning about the benefits of paying tax, pensions and bookkeeping besides the other topics, revolutionised her over the four days.
She referred to the sessions as very educational as she explained how her past fears about the National Insurance Scheme (NIS), particularly in relation to persons making contributions but not obtaining the necessary benefits, were dispelled.
Bailey said that persons need to understand that paying taxes results in the development of the community and the nation. The entrepreneur told of how she operated at different levels in business and sometimes ventured to work with others when her business was not doing very well. She has had to move from different locations in Georgetown due to rent and other challenges.
She now has a permanent structure at her home from where she operates, but things are not a bed of roses since she is still in competition with services which others are offering on the roadside and at sometimes cheaper rates.
Nevertheless, the businesswoman is still hopeful about expanding with the knowledge she gained at the workshop.
Bailey is also grateful for the service of mentors who will work with the entrepreneurs during a nine-month period, offering guidance.
Another participant, Dasie Singh, who is involved primarily with poultry farming at Windsor Forest, West Coast Demerara, said the workshop opened her eyes to record-keeping and how to effectively manage her business to ensure productivity and growth.
Farmer Soorsattie Singh, 34, also from the West Demerara, related that before the workshop, she basically ran her business in a haphazard manner. But she has learnt about accounting and how to determine whether the business is profitable. Singh normally sells her produce at the Leonora Market and highlighted the fact that competition from large scale farmers sometimes cripples her business, since she is forced to sell her produce cheaply, which sometimes does not bring any returns.
Hairdresser Faith De Souza related that she is now able to understand business at a different level since the workshop exposed her to the strengths and weaknesses in managing a business. She was also educated about record keeping. De Souza, a mother of four, manages Natasha's Beauty Salon on 38 Durban Street, Georgetown.
Cosmetologist Joan Rodney, who is thankful for being introduced to the workshop by Scotiabank, said that the event was edifying to her since she is now aware of little things which she previously took for granted. "Little things I never done before, like jotting down items that we buy and keeping records are very important," Rodney said. She explained some of the other areas she was exposed to, including obtaining a loan from a financial institution for the extension of a business as well as the importance of a business account which she said she already had.
Rodney also called for other single mothers to join forces with the project and become enlightened about a brighter future. "They need to come out and ask questions and get involved in these workshops because there are so many opportunities that are available which many people don't know about," she asserted.
Different lending institutions also offered to teach the women about the benefits available to them.
Around the Web