Several social activists and other civic-minded persons on Wednesday called on police and other institutions to "step up their game" to bring about speedy trials and stricter penalties for rape and implement legislation enacted to protect women and girls from sexual violence.
The group assembled in front of Police Crime Chief Leslie James's office on Carifesta Avenue last week to rouse police and the wider society from their indifference to this growing national scourge, as part of observations for Sexual Violence Awareness month.
Protests continued on Wednesday when about 10 persons armed with placards and banners braved the blazing sun to display them at the junction of Croal Street and Avenue of Republic, outside the Georgetown Magistrates' Courts.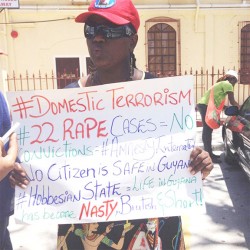 Rights of the Child (ROC) Commissioner Nicole Cole held her sign and her head high as she fervently called for the restoration of security.
"We should not have to be in fear with carrying along with our everyday lives, especially our elderly women and our kids. They deserve our love and care, not to be brutally murdered," Cole said. "We have become an apathetic society," she added, explaining that more persons are displaying beastly and barbaric behaviours that will soon see our descent into a state where there is no respect for the law and life becomes "brutish, nasty, and short."
Meanwhile, Coordinator Roxanne Myers said the group took the decision to launch a month-long protest in response to the growing number of sexual violence incidents against women and children. "It's not just the police that has a role to play, it's all institutes that need to step up their game," she said, reiterating the need for speedy trials and stricter penalties for sexual violence related cases.
"Guyana has some of the most progressive legislation as it relates to women and gender equality but we don't have the implementation of those laws," Myer said, adding that the court needs a "human face."
Around the Web