Two men are currently battling for their lives at New Amsterdam Public Hospital after they were brutally stabbed during a fight at a party following the President's Cup horse racing meet at Port Mourant on Sunday night.
Yuhvendra Veenarine known as Chris, 22, of Bush Lot Village, Corentyne and Trevor Butcher, 20, of Rose Hall Town Corentyne Berbice were both at the after party at the Port Mourant racing turf when they were injured between the hours of 9 and 10 pm.
Stabroek News understands that Butcher was a bystander when a fight broke out between Veenarine and another individual (name unknown). Reports are that the fight resulted from an old grievance between Veenarine's father and the father of the other individual. Butcher told the media from his hospital bed that he was at the "after party" with his uncles when he noticed two men fighting and beverage bottles being thrown in the air. He said he turned to the fighters and told them to stop and they should remove from next to him. It was then, he related, that one of the men pulled out his knife and stabbed him. Butcher said one of his cousins, Steven Kanya, had also been stabbed by the same man, but he had received medical attention at the Port Mourant Hospital and was sent home.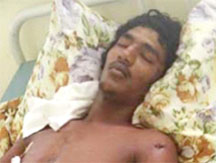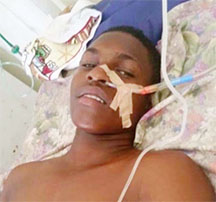 Butcher added that after he was stabbed he staggered to his uncles for help and they rushed him to the hospital.
An uncle of Veenarine told this publication at the hospital that the doctors have said that "he has a 50/50 chance" of living.
Veenarine's uncle said they were at the races earlier in the day but one of their horses broke its leg, so they left. They said they told Veenarine to go and get this father but he didn't return and instead stayed for the after party. The uncle recalled that sometime around 11 pm, they received a phone call which informed them about the unfortunate events.
He said they raced to the Port Mourant Hospital and when they got there his nephew was being transferred to the New Amsterdam Hospital.
He said persons told family members that a gang of men had beaten and inflicted grievous bodily harm on his nephew. The uncle explained since the incident, his nephew had not spoken so it was unclear who had injured him.
Stabroek News understands that there have been no arrests.
Around the Web