The ground was broken on Monday for a new US$20M campus that will be constructed for the Texila American University, at Providence, East Bank Demerara.
At the groundbreaking ceremony, Chief Executive Officer Saju Bhaskar called the project a dream come true for the students and staff of the university. Bhaskar also said the construction of the university will help to anchor Texila's investments in Guyana.
The new campus is projected to be completed in early 2016. Once opened, it will serve around 1,500 students and is expected to house modern laboratories, a research centre, library, information technology centre, student lounges, an international cafeteria and other amenities, Bhaskar said. He said too that Texila has plans to build dormitories, which will provide accommodation for international students as well. Bhaskar went on to say that Texila also aspires to build a 150-bed hospital at the same location.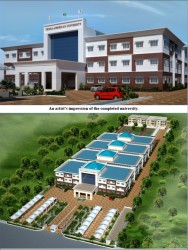 He noted that the university started with around seven students and now has 420 students from over 35 countries. The university was established in Guyana in 2010 and it offers four programmes: Pre-Medicine; Doctor of Medicine; Doctor of Dentistry; and Nursing.
Minister of Housing and Tourism Irfaan Ali, who was in attendance at the small ceremony, called it a momentous occasion and said the construction of the university falls in line with an ever changing, energised Guyana, where the East Coast and East Bank corridors would be linked. The minister said persons need to pay critical attention to what the government wants to create. He also said the ultimate goal is to transform the area into a commercial hub.
According to Ali, because of the university, educational tourism will now be boosted in Guyana, which is poised to become a major player in the region. The minister added that such an initiative will help to grow the economy, while noting that the country has to find innovative ways to grow. Towards this end, he said that several other universities will be coming to Guyana and that this will play an important part in the tourism sector.
President Donald Ramotar, who was also present, said such a new type of tourism is important to the country. He also said the expansion of the university shows the confidence that investors have in Guyana.
According to Ramotar, the quality of people a country produces is critical to its development. Texila's presence in Guyana, he further said, will help the country to attain a quality health care system, which is crucial. He pointed out that as Guyana's population continues to grow, health care will be critical. "The university will play an important role to train our Guyanese," Ramotar said. "And some of the students will take our names abroad and become our ambassadors, wherever they may go."
The university also has branches set up in four other countries: The United States, the United Arab Emirates, India and Hong Kong.
Around the Web