In his first local political run, rights activist Mark Benschop isn't delusional about his chances of winning the presidency. Instead of aiming to be the next government, he and members of his Independent Party (IP) have set their sights on the National Assembly, where he believes they can be the voice of the people based on a proven track record of fighting for the rights of citizens.
"Once in Parliament, we will fight for their [citizens] rights and remind whoever forms the next government that they have to ensure that the people are not taken advantage [of]. We will become the voice of the people. Whoever is the government should have to come to us for that deciding vote to pass any bills," he told Stabroek News in a recent interview.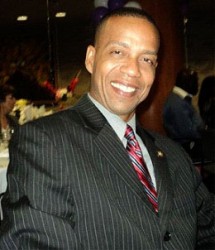 This parliamentary stint, according to Benschop, is an opportunity for the people of Guyana to see that the Independent Party can work for them. "We in the IP believe that people should not jump out of a coconut tree or spring out of nowhere, having not contributed anything substantial to the people. In Guyana, we have a so-called democracy where anybody can jump up and say I am running for president," he noted. "Though we registered a presidential and prime ministerial candidate, we are not canvassing on that. We are stretching democracy by telling people to check track record. We want to start a trend where we are elected to parliament and ask people to judge performance," Benschop added, while noting that the party is telling people to give it a chance to serve and if they don't like what it is doing then they have the option in five years to vote it out.
Benschop consistently called for voters to judge him and his team on the "works that they have done in terms of human rights and empowering people; [no] political party can come close to that and so we are asking people to judge and vote on our policies and our track record of standing up and fighting for their rights."
"I want people to be able to judge me on my track record of standing up and fighting for people's rights; of empowering thousands of people mainly single moms and other young people through courses at the Benschop Foundation, offered free of cost, not just in Georgetown but across the country in regions 10,4,6,5 and so forth. Persons have been trained in cosmetology, languages, first aid and the use of computers. If we can do this through a small organisation such as the Benschop Foundation, can you imagine what the Independent Party can do in Parliament?" he added.
He stressed that "when elected to Parliament," he and his team will be going to work for the people as their servants, with no arrogance or disrespect towards the common man. They will restore power into the hands of the people, he said, and remind the people that they have the power.
"One thing we will do immediately on gaining our seats in Parliament is to refuse duty free concessions," he promised. "Duty-free concessions for parliamentarians cost this country about half a billion over that five-year period. Whatever number of seats we get, our parliamentarian won't accept duty-free and I challenge the other parties to do the same. That money can build schools and labs around the country; we want Guyanese to see that we will work on the peoples behalf not live on their backs… no one will be stealing from the people," he added.
Although the campaigns of the incumbent PPP/C and the opposition alliance APNU+AFC stand to win the largest shares of votes at the polls, Benschop pointed out that there were thousands of people who didn't vote at the last elections and that there are thousands who still don't want to vote. He noted too that many of the young voters are tired of the back and forth between the two major parties. The IP will be targeting these voters.
"These people, especially young voters, are not really concerned in this election about who allegedly ran away with ballot boxes, who allegedly did that, this in the 1950s or 60s. People are concerned about bread and butter issues and that is what the Independent Party is about," he said.
"People are tired of the back and forth, the political bickering. We are stepping up to tell people don't make a decision not to be part of the political process. We bring something fresh new to the table we are going to be your servants. We are also putting the major parties on notice that we are going into to Parliament to work, not to play, not to fight to bring up bitterness and argue with each other. They have to get their act together," he added.
Working in the trenches
Although the party is new, Benschop called it the "most significant small party with the most recognisable leader."
Prior to his advocacy and his work with his Foundation, Benschop gained prominence as a talk show host and then a treason accused who was imprisoned for five years before being freed after a presidential pardon.
Apart from Benschop, the IP team is made up of persons whom he said have been in the trenches working for the people of Guyana. They include Deputy Leader Dexter Todd, a lawyer who has worked pro bono on several human rights cases; Diane Madray, founder of the Caribbean American Domestic Violence Awareness (CADVA) organisation; and young people whom Benschop said are interested in an issues-oriented campaign.
Benschop noted that he and his team in addition to a few advertisements are campaigning in the old-fashioned way by going out and meeting people "shaking hands and talking to the young lady, the old man, the female, talking to persons who have faced some kind of injustice."
While there is no manifesto, IP has been highlighting its policies through infomercials and a brief policy document is to be published before the elections.
One policy the party intends to push is a "real" reform of the police force and the judicial system. According to Benschop, his years of dealing with the police have taught him how to deal with members of the force in a constructive way. This experience, he noted, puts him ahead of the leaders of all the other parties when it comes to understanding what is necessary to improve the force.
He and his team also have plans for the judiciary. "I have been back and forth in the courts; a hundred charges plus, so I understand the system. Judicial reform will be our strength also," he professed. He also said his party will explore the possibility of having a night court, "so that persons languishing in prison, like I have experienced, no longer have to languish."
The party also believes that the next Police Commissioner and Speaker of the National Assembly should be female. This is part of its plans to allow not only the youth but women as well to wield power in more than a superficial way.
It also hopes to remove all those acting in official posts. "Guyana… is not Hollywood, where you have actors and actresses. So, we will push for those things to come to an end. Further, we will advocate for positions, such as the Chancellor of the Judiciary, to be confirmed by the Parliament and not by the president," Benschop said.
While the party is not anti-foreign investment, Benschop notes that foreign investors must be made to respect our laws, our culture and our workforce. "We are not going to tolerate any company coming in to Guyana and bringing their own workforce or 95% of their own workforce and treating Guyanese as third class citizens," he explained.
Charging that the government has done a lot to him personally, Benschop nevertheless said, "We are not going in there with any bitterness; we are going to work on behalf of the people not to spite anyone."
"Government has done me a lot of things, imprisoned me for five years on trumped up treason charges and so much more but I'm not going there to spite anybody," he added.
Around the Web