APNU+AFC candidate Moses Nagamootoo was yesterday sworn in as Prime Minister and first Vice-President of Guyana by newly-appointed Presi-dent David Granger and vowed to bring about constitutional reform.
Arriving at the swearing in ceremony at the Ministry of the Presidency with his wife and daughter, Nagamootoo took the oath as Guyana's new Prime Minister, replacing former PPP/C Prime Minister Samuel Hinds. He promised to perform his duties as Prime Minister and First Vice President without fear or favour.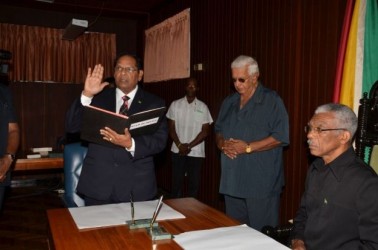 Speaking with the media after he was sworn in, among other ministers of the coalition government, Nagamootoo stated that he will focus on bringing the government together but, moreover, high on his agenda is information and constitutional reform.
"I will be fully occupied but I will pay special attention to information and constitutional reform. Those are two big areas because we had promised the Guyanese people that we would have constitutional reform so I will pay special attention to that," he stated.
He said he has an idea on where to begin with constitutional reform and part of that will be revising the powers of the president and excess powers of the executive.
"I want to start on humbling of the powers of the president, the excess powers of the executive and to bring about inclusion within the government system,' he added.
He, however, indicated that whosoever would be heading the process of constitutional reform will have a "full plate" of issues to handle.
Nagamootoo added that his other priorities are to clean up the city and send a message to all Guyanese that the "elections are behind us and that we have to now work together."
According to the Cummingsburg Accord of the APNU+AFC coalition government, the president will delegate the Prime Minister to be responsible for domestic national affairs and the chairing of the Cabinet; recommending Ministerial appointments and providing the organizational structures of Ministries for the approval of the President; nominating the Head of Agencies and Non-Constitutional Commis-sions with the required and agreed democratic mechanisms of consultation and also domestic security.
After Nagamootoo was sworn in along with the other ministers of government, President Granger reaffirmed his commitment to Guyana becoming a less segregated and poor country.
He told his ministers that they were on "one team" and that he was confident that they would give their support to him and Nagamootoo.
Around the Web