A Liverpool man was shot and chopped about his body on Tuesday afternoon following an allegation of livestock theft.
According to the police, Mark Simon, 29, of Liverpool, Corentyne, was involved in an argument with another man at Liverpool on Tuesday around 18:30 hrs, over the alleged larceny of cattle. During the row, Simon was shot to his back and right foot and also chopped to his right foot. The incident reportedly occurred on the first street of Liverpool.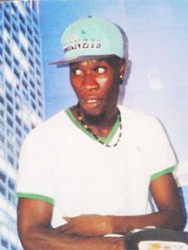 Stabroek News learnt from relatives that Simon underwent surgery at the Georgetown Public Hospital to remove the bullets that were lodged in his body.
Yesterday, Alice Simon, 59, mother of the injured man said that around 5.20 pm, she was arriving home after vending and was greeted by police officers at her premises. She said prior to that she had seen the police vehicle chasing an individual but didn't know it was her son.
The mother recalled that as she was walking into her yard she saw three officers standing on the "landing" while her daughter barred the door. Simon said she heard her daughter Tricia Williams informing the officers, "All yo can't come in here! All yo can't come in my mother house because you have to read a warrant before ayo come in." Upon enquiring what the commotion was about, Simon said she was told of an allegation against her son by a man whose names were given. She said she informed the police that her son was not around and livestock was being stolen in the neighbourhood. She added that she could not say who stole the livestock. "If Mark thief it or he didn't; I can't say," she said.
The police informed her, she said, to take her son to the station yesterday morning and she agreed.
However, the mother stated that around 6 pm her son had gone to purchase cigarettes and two of her daughters went to purchase phone cards. They returned home and told her they had seen the man who made the allegation against their brother with "a cutlass in his hands."
As they were relating this to her, she said, they all heard explosions which they suspected to be gunshots. Simon said she and her daughters dashed to the scene a stone's throw away. "When I got there I didn't make any noise… cry or scream. I just see my son lying in the trench… He had two chops and was shot three times. He was bleeding a lot," she said.
Simon said her son was lifted out by a relative and taken to the public road where he was placed in the car and taken to the Whim Police station.
She said before the car could have stopped at the station they were told to take the man to the hospital. The mother said she heard a police officer saying "if he had come to the lock ups [the man] na would a have to do he nothing."
The injured man was treated at the Port Mourant Hospital and later transferred to the New Amsterdam Hospital. During the course of Tuesday night, he was rushed to the city facility.
Additionally, the mother said that "Mark always coming home and say people telling he that [the man] want to kill he." However, the mother said her son never took it on and didn't worry to report the matter to the police.
Meanwhile, police are yet to make an arrest as investigations are going.
Around the Web