Minister of Public Health Dr George Norton has committed to making abortion available at all public health facilities in Guyana.
"The law says that it is a woman's right to have a medical termination of a pregnancy if she so desires. It is therefore the government's duty to provide that facility," Norton told Stabroek News on Thursday.
Norton stressed that this commitment is not him personally advocating anything but simply fulfilling the mandate of his ministry.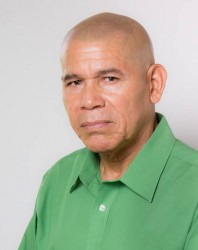 The Medical Termination of Pregnancy Act, which legalised abortion in Guyana in 1995, is still to be properly implemented, according to many commentators. In fact, though legal for 20 years, abortions are not done at public hospitals except in cases where the patient faces life threatening circumstances or is a victim of rape.
In 2008, then Minister of Health Leslie Ramsammy, in explaining why the Georgetown Public Hospital would only be treating incomplete abortions, told this newspaper, "if the public hospital starts terminating pregnancies, the service may be constantly demanded and they currently do not have the human resource to deal with this."
At the time, it was reported that women desirous of attaining the service in the public health sector were travelling to hospitals in New Amsterdam and Suddie while those in far-flung areas were accessing it at Mahdia and Mabaruma.
Although in 2013 Chief Medical Officer Shamdeo Persaud was reported as saying the process has started to bring termination of pregnancies to public healthcare facilities, steps are still being taken to make this a reality. This, according to the new minister, is unacceptable. "The lack of access to these facilities is a failure on the part of the government and we must now do better," he said.
Norton added that for many these measure may be "too little, too late" as the two- decade lag in the proper implementation of the act would've seen many persons being permanently scarred or losing their lives because of "uncertified, bottom-house, unqualified abortions which have been taking place."
He spoke of the different measures being used by women who cannot afford the $30,000 for a private abortion, saying, "We have the classic slip and fall, numerous concoctions and even some who become so desperate that they try knitting needles and umbrella wire."
While the minister did not commit to a specific timeframe, he said he will be doing his utmost to see abortions at public health facilities become a reality.
Executive Officer of the Guyana Responsible Parenthood Association (GRPA) Patricia Bisnauth is pleased with the new minister's commitment.
"This is an area we have been actively pursuing," she told Stabroek News on Friday. "We have been working to advance the access to safe abortion and last September we got the support from GPHC to train licensed doctors in termination practices."
Bisnauth explained that prior to the efforts by GRPA, there was only one person licensed to train healthcare providers in termination methods. "We were able to assist in the training of four additional trainers and 20 practitioners from regions 3, 4, 5 and 6," she said.
These attempts, she added, are in an effort to lower Guyana's maternal mortality rate. "We are happy that the new minister will be addressing this situation as it is essential to preventing deaths," she further said.
Human rights and wellness activist Sherlina Nageer told Stabroek News that while she is "glad to hear" the minister's commitments, "she will be keeping a close eye on how he goes about implementing his promise."
"Obviously, he alone cannot get it done but his leadership in this area will go a long way," Nageer said.
Nageer has been a part of several campaigns to see the Medical Termination of Pregnancy Act properly implemented, having written several articles calling for both Guyanese men and women to be proactive in breaking the taboo against abortion as well as exhorting the previous government to fulfil its responsibility to provide abortions at public health facilities.
Most recently, Nageer started an online petition calling for the Harvard TH Chan School of Public Health to sever all ties with Ramsammy because of his "poor track record" in the health sector in Guyana, among other things.
The petition cites as one of the justifications for this call Ramsammy's failure during his tenure as health minister to ensure that the Medical Termination of Pregnancy Act was properly implemented. As a result, the petition argues, "abortion services were not offered in the public health facilities and numerous poor women who needed this service were maimed by unlicensed 'bottomhouse' abortionists, and some even killed. There was no commitment to holding these doctors accountable or to provide justice for these women's families. Infor-mation about which doctors are trained to provide abortions, where to go for the service, or where to report any problems is not made widely available by the Ministry of Health. In addition, nothing has been done to reduce the stigma around abortion, there is little sex-education in the public schools, and public clinics do not always have all the family planning methods in stock."
Around the Web