Anglican Bishop of Guyana the Venerable Cornell Jerome Moss died yesterday in Miami while recovering from heart surgery.
Members of the Anglican diocese have confirmed Moss's death though the diocese is still to issue an official statement. According to Reverend Andrew Carto, Dean of Georgetown and Rector of St George's Cathedral, an official statement will be issued once the diocese has confirmed with the family the details surrounding the Bishop's death.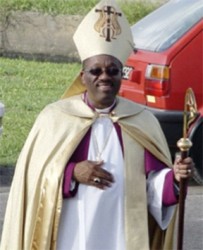 In lamenting the "devastating" loss of a man "who will be dearly missed" Carto described Moss's death as "a blow" since in his time here he had "stamped his personality on the diocese."
Moss's personal assistant Marlon Laing told Stabroek News that the Bishop's death was "shocking".
"I am saddened beyond words because I lost a friend, he was certainly a figure that I want to emulate," Laing added.
Laing described Moss as "a very hard working and disciplined man who cared for persons more than he cared for himself. A man who made decisions you might wish to question until you saw the great results they produced, a man who was ahead of his time."
President David Granger told this Newspaper that Moss who was assigned to the diocese in 2009 "came at a time when there was need for spiritual guidance and physical rehabilitation of the church's property; as an Anglican I was very happy with his all too brief tenure as he re-invigorated the Anglican diocese in Guyana and provided quality leadership."
"He is a great lost to the diocese and to the country," President Granger added as he extended his condolences to Moss's wife, family and to the Anglican diocese.
Around the Web