Three boys have been left without a father after Dennis Narine was shot and killed yesterday through the window of his Parfaite Harmonie home by an unknown individual.
Twenty-six-year-old, Narine died in his mother's arms early Sunday morning after he was shot twice to the chest in what appeared to be an attempted home invasion.
In a statement yesterday, the police said that at about 0030h yesterday Narine was aroused by noise at a glass window in his home. He went to make checks during which shots were discharged at him through the window. He was hit to the chest and subsequently taken to the West Demerara Regional Hospital where he was pronounced dead on arrival.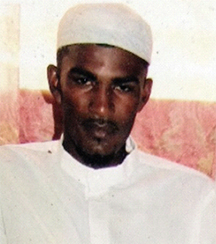 When Stabroek News visited the home of the man's parents, a large crowd of family and friends had gathered in disbelief at what had happened.
According to the dead man's mother, Bibi Shameena Khan, her son who is a taxi driver had parked his car in their yard as he usually does at around 8:30 pm on Saturday before walking a short distance to his house which he shared with his wife and three sons.
The woman went on to explain that after midnight yesterday, she awoke after hearing two gunshots followed by screaming emanating from her son's house which is located in the street behind hers.
"When I get up I wake the husband and call the son downstairs and seh something wrong with yuh brother, leh we go see. And I hear the wife screaming and we go rap at the door and she (his wife) seh he get shoot", a sobbing Khan said.
"When I raise he up and ask he to talk to me he said nothing", she added, saying that he breathed his last breath before dying in her arms.
Narine's wife of five years, Naomi Narine described her husband's death as a "terrible incident". "I still can't catch meself up to now. This guy attempt we one time, he go away and he come back real tough to we", the woman lamented.
She went on to say, "The first time he tried pushing out the window pane and the second time he came back and start pushing up the window and pushing the wardrobe and my husband fire two blade at him." It was then, she said, the killer shot her husband twice to the chest.
"This thing ain't take five minutes to happen. I didn't even reach the back room and the shots were fired, she added.
Narine's mother gave a similar account of what she was told by her daughter-in-law, saying that her son had managed to scare the culprit off the first time by hitting the cutlass against the wardrobe. Narine's mother and wife said they have no knowledge about a possible motive for her son's murder, stating that her son was a very quiet and hard working person who never had problems with anybody.
However, a relative present during the interview reminded Khan of an incident which occurred two months ago at her son's workplace, where an unknown man had threatened to kill him.
She related that the incident had occurred 2-3 three days after someone had smashed the windows on Narine's car which he had parked in his yard. Khan went on to say that a report was made to the police station about the damage to his vehicle but nothing came out of the matter.
Nevertheless, Khan maintained that her son had no known enemies.
Explaining that her son had put the incidents at the back of his mind, she said "he was a simple and peaceful man." "Maybe the same person come back and kill he this morning, I can't say", a teary-eyed Khan added.
Speaking on her son's character, the woman described him as a hard- working man who did his best to maintain his family. "He's not a bad person, he work hard to maintain his home. He don't got problem with nobody and I want justice for he", she lamented.
"I can't believe, I can't believe me son dead like this. He dead and left three children and is nah big children that can take care of themself", she added.
His wife and mother of his three sons spoke highly of him as she explained that he was the sole breadwinner of the family. "He was a good person, he gave me everything I always wanted and I really loved him", the young woman said as she fought to hold back tears.
"I will fight hard to maintain them (the children) the same way them father did", she added.
In addition to his wife and three sons ages five, three and two, Narine leaves to mourn his father and mother as well as four younger siblings.
Police officers from the La Grange Police Station were seen conducting a search on the man's vehicle which he operated as a taxi attached to the West Side Taxi Service in La Grange.