Former senior diplomat of the Ministry of Foreign Affairs, Dr Barton Scotland yesterday confirmed that he has been told that his name is being considered for the position of Speaker of the National Assembly.
However, Dr Scotland told Stabroek News that he would say no more until the matter is pronounced on by the legislature.
The 11th Parliament is set to be convened next Wednesday, when it is believed the APNU+AFC coalition would vote in favour of Dr Scotland being the next Speaker. It is not clear if the PPP/C would be taking up its 32 seats in the National Assembly or if it will be nominating anyone for the position. However, because of the government's one seat majority, it is expected that the individual nominated by the administration would be elected Speaker.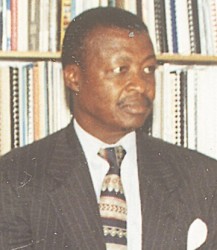 According to the coalition's February 14th Cummingsburg Accord, the Speaker would come from civil society but there must be a consensus between the two parties. It is not clear if that consensus has been reached as yet as indications are that a meeting is planned for Tuesday. The other nominees for the position are attorneys Stephen Fraser and Roysdale Forde. It is not clear what process is being used for the selection.
Dr Scotland has held various diplomatic posts and once headed the Department of Inter-national Economic Cooperation under the late President Desmond Hoyte. He served as an advisor to the Ministry of Foreign Affairs in 2012 and was part of the team that accompanied then Foreign Minister Carolyn Rodrigues-Birkett in April of that year when she made an oral presentation in support of Guyana's submission for an extended continental shelf to the Commission on the Limits of the Continental Shelf at the headquarters of the United Nations in New York. Scotland is also an acknowledged expert on the Law of the Sea.
Scotland also served as a Commissioner on the Caricom Competition Commission, which was launched in 2008, and later became its Chairman. Scotland worked in private practice in the areas of Natural Resources and Investment Law, Negotiations and International Law. He holds a Master of Laws degree and a PhD in International Law.
Around the Web