The National Com-munication Network (NCN) Radio VOG begins a new series of folkloric programmes on Wednesday evening at 19:30hrs (7:30 p.m.)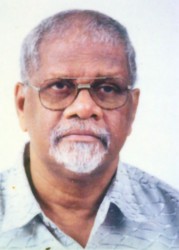 Titled `Bun-Bun: Getting To The Bottom of Guyanese folklore', the weekly programme, to be produced and hosted by Stabroek News Friday columnist and amateur folklorist Allan Fenty, will explore Guyanese folkloric traditions.
According to Fenty, the primary objective is to promote an awareness of the Guyanese identity, as rooted in our origins and culture-oriented folklore. The youth, now being assailed by Jamaican and American "intrusions", should be familiar with their rich legacy of Guyanese folklore also, Fenty asserts.
"Bun-Bun" will therefore discuss Guyana's folk-songs, folk-games, rituals, spirit-beings, superstitions and beliefs, even ethnic foods and musical instruments.
Fenty reveals that he is proud to follow in the tradition of such "greats" as Ovid Abrams, Roy Brummel, Marc Matthews, Peter Kempadoo, Henry Mutoo and of course, Wordsworth McAndrew. "The programe is perhaps a timely renewal, given a seeming re-awakening of things patriotic and cultural", Fenty opines. "Bun-Bun" will be aired on Radio VOG on Wednesday and Sunday nights.
Around the Web