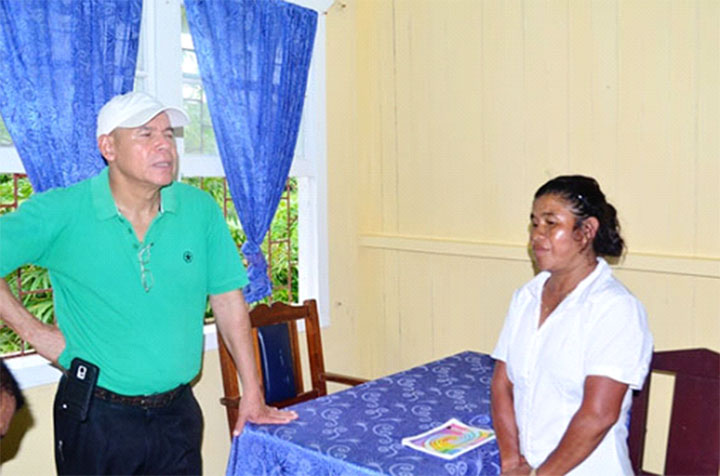 Minister of Public Health, Dr. George Norton, along with the Deputy Permanent Secretary, Trevor Thomas, and others, travelled to Region Two on June 12 and 13, where they visited health centres/posts in villages along the Pomeroon River and found that key requirements were absent.
GINA said that the team visited health centres/posts in Kabakaburi, Karawab, Abram's Creek, Siriki and St. Monica, and observed that these facilities are lacking essentials such as water, electricity, a refrigerator to store vaccine, and delivery beds.
"You go into health centres and turn on the pipes and they are not functioning, in spite of the fact that you have sturdy structures outside and sometimes six or even more black tanks of water, yet the toilets are not functioning nor even the sinks. I don't think it's rocket science, I don't think we need persons from Georgetown to get that arranged and somewhere along the line, I think that persons who are supposed to see these things functioning have been very irresponsible," Norton said.
Norton said that over the years, during budget presentations by the past government, he questioned the condition of things like refrigerators, microwaves, stoves and chairs, and now one can see health workers sitting on broken chairs, and having rusty stoves and most of them have beds that people would not accept in their own homes.
He said, according to GINA, that the Siriki Health Post is infested with bats. Norton added that regional authorities need to visit these areas more regularly and must be held accountable, because "It is unacceptable when you come into a concrete building, tiled floor, and it is
infested with bats. We don't even know how we are exposing not only our citizens, but in particular the health care providers to infections."
The Community Health Workers and medics were however lauded for the willingness and dedication they demonstrated while working under poor conditions.
Norton said that while salary is a bother and is something that everybody is talking about, it was the least of the concerns, noting that persons are more worried about the conditions under which they work.
"… if we are going to improve the health services in places like the Pomeroon, then there is so much work to be done. We have got to change the whole system that is in place. I am happier now that I have come and seen for myself, and now I would be able to make a firm decision. I know where we stand as the Government, needing to play our part in making the service available," Norton said.
Around the Web