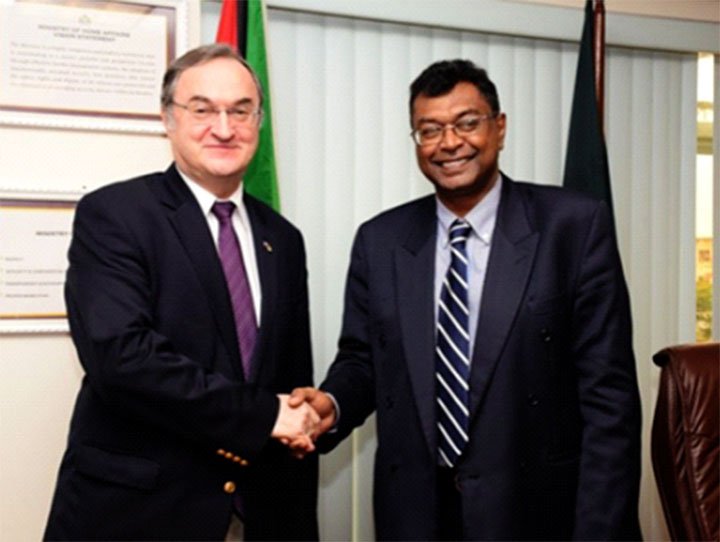 Russian Ambassador to Guyana, Nikolay Smirnov on Monday paid a courtesy call on Public Security Minister, Khemraj Ramjattan at the Ministry of Public Security, Brickdam, Georgetown and discussed support to the security sector.
Russia is latest country to offer support to the security sector.
GINA said that among several issues discussed were training and capacity building for the officers in the Guyana Police Force (GPF). Ramjattan said he was brought up-to-date with the bilateral relations shared between the two countries at the level of the ministry.
A general framework agreement is being fine-tuned and the final draft is to be taken to Cabinet to be signed off. Ramjattan said that the agreement will see "the specifics that we are going to be entering into; for example, if there is need for an extradition treaty, control of drugs, illicit drugs, or mutual assistance in crime, what agreements and specific assistance we will get will arise out of that general agreement." He said that he was also made aware of several training opportunities that are available and open to Guyana in Russia, through the Russian Federation.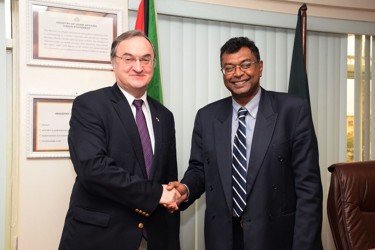 Smirnov added that in 2013, five policemen benefited from training in Russia and four others have been selected for the 2015 training session.
This training is expected to last for a maximum of three months. These officers were already identified under the previous administration. When asked if the names will be reviewed, Ramjattan said that he does not have any objection to them.
In February 2012, a bilateral agreement between Guyana and Russia was signed, addressing cooperation against narcotics. The Ambassador pointed out that there is need for improvement, thus this was also a part of the discussions held.
On Monday, Indian High Commissioner to Guyana Venkatachalam Mahalingam, also paid a courtesy call on Ramjattan and offered assistance to the security sector.
Ramjattan told GINA following that meeting "It is quite a long list," noting things like scholarships for the training of policemen and capacity support for the Forensic Laboratory.
"He had indicated that they have some good quality labs in India… the training from those and also the materials that we can acquire," the Minister said, were discussed in relation to the Forensic Lab.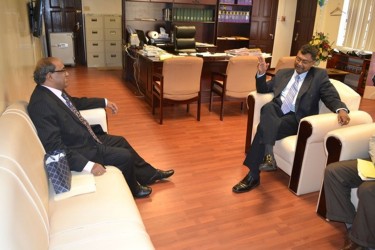 Also discussed was collaboration with regard to the provision of instructors for classes in crime scene management.
Ramjattan also said he had indicated Guyana's interest in programmes and policies related to mending community/policing relationships, and that the High Commissioner had expressed his willingness to network with the Minister on some of the case studies that India had done on this.
When outgoing Canadian High Commissioner to Guyana Dr Nicole Giles paid a courtesy call on Ramjattan on Monday, security was also on the agenda.
According to the Minister, among several issues discussed were training and capacity building for Guyana Police Force officers, "Better training from the Royal (Canadian) Mounted Branch, also the police college out of Canada, it has to do with mentoring our policemen and women".
This, he said would be done in five areas: gender violence, women in police leadership, human rights, crime scene management and public corruption.
Giles pointed out that funds would be available through a grant of CDN$750,000 for the justice system in Guyana.
GINA said that the money is part of a project with the Justice Education Society of British Columbia, a Canadian Non-Governmental Organisation, which aims at strengthening the justice system.
Around the Web