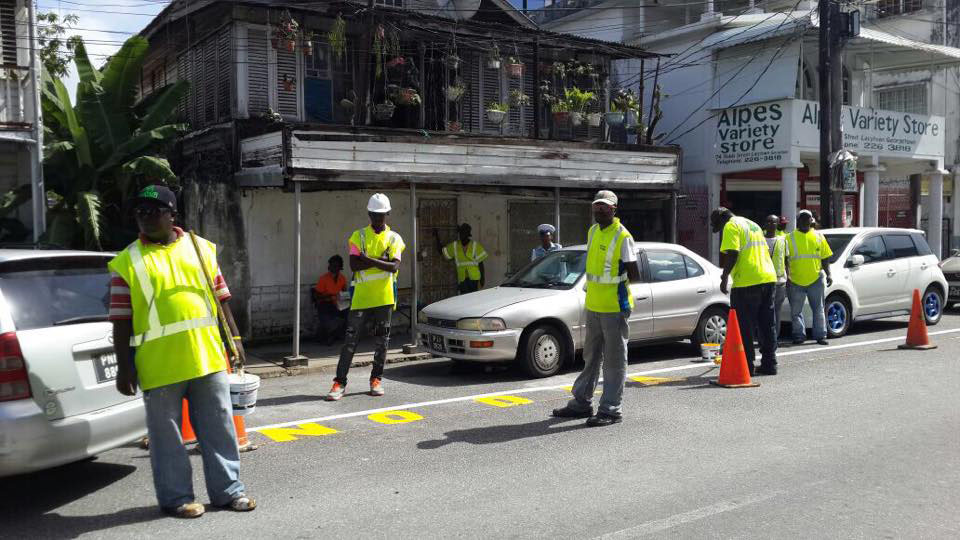 The ongoing implementation of parallel parking on Regent and Robb streets is being blasted by the citizens who regularly park on these roads.
Prior to this latest move by the Police Traffic Department, a walk along Regent Street or Robb Street from as early as 7 am would have revealed a sea of vehicles, diagonally parked along each side. Considering the constant congestion and parking problems the city is plagued with, diagonal parking eased the strain of finding parking, especially on a one-way road such as Robb Street.
Now that parallel parking is being implemented on two of the main roads in the central business district of Georgetown, citizens are blasting the new plan as being counterproductive to fighting the congestion and parking problem that currently exists. One parallel parked vehicle takes up space that could be effectively utilized by two diagonally parked vehicles, which cuts the amount of cars that can be parked on the street in half.
Traffic Chief Ian Amsterdam told Stabroek News that the Force has observed that some of the major roadways in the city have been narrowed because of the diagonal parking.
As such, he said, the Force looked at it and decided that "If people parked differently there would be more road space." He noted that the no diagonal parking initiative had already started on Regent Street and has now been extended to Robb Street where a problem with the "traffic flow" also exists.
According to Amster-dam, the plan is to extend this arrangement to other streets. Asked to identify some of those streets, he said that Water Street is among those being considered. He said that these streets are fairly wide but when there is diagonal parking, the streets become narrow and this sometimes slows the flow of traffic.
Told that persons are concerned that there will be less parking spots available on these streets, Amsterdam said that is the aim of the exercise; to have fewer vehicles parked. He said persons will now have to park elsewhere and walk to their destination or will have to utilize paid parking.
At present, paid parking is non-existent in Robb Street and while there are two such facilities in Regent Street, the space available is limited.
The painting of the signs to prohibit diagonal parking is being done in collaboration with the Ministry of Public Infrastructure.
"We have to deal with congestion," Amsterdam said, stressing that the traffic department will also be focusing on those errant drivers who fail to utilize the bus stops. He said too that the stopping of vehicles on the section of Robb Street which runs through Bourda Market and North Road will be looked at.
Meanwhile, some drivers said the police's action amounted to putting the cart before the horse.
"On such a main street [Robb Street] you are not assisting with the current issue we are facing with parking. Addressing issues such as the drains and building up the road to make more space for diagonal parking, would more likely help than introducing parallel parking," said one citizen who regularly parks on Robb Street. The driver explained that even when diagonal parking was being used it was difficult to find parking at certain times and drivers would have to circle the area several times in the hope that a space frees up.
"Parallel parking should be outlawed!" an auditor, who wished to not be named, who regularly parks on Robb Street said. "It does not make sense, none at all, why would you want to change something that makes space to something that doesn't, especially on such a street with so many businesses. What I think should be done is all of these high rise buildings should make their first floors available for parking. And there is the fact that signs are painted on the road. Drivers are supposed to keep their eyes focused ahead. Most of the signs are watered out and shabby. They should be erecting clear signs not trying and failing to prevent congestion. Where are people supposed to park now? Everyone's going to fight for a space and it's going to be time and money consuming for everyone."
"It is just nonsensical. Utterly stupid," another driver who regularly parks on Robb Street said. "I understand implementing it on Regent Street which is a two way, but Robb? Paid parking is utterly expensive!"
One person pointed out that one of the paid parking lots in the area has a base fee of $300 and $500 for every hour after.
Traffic Chief Amsterdam stated that ranks will be clamping or towing away vehicles found to be in violation of traffic laws.
Asked about the penalty attached to violating the new no diagonal parking rule, Amsterdam said the Force will first have to ascertain whether the offence being committed is obstruction or a breach of the traffic sign. Based on that assessment the person will be charged and placed before the court. Asked if there is a monetary fine, he responded in the affirmative but said that the amount is at the discretion of the magistrate.
Around the Web