Bishop Juan Edghill yesterday singled out the media for failing to highlight what he said was the grave injustice of the new government's firing of Kwame Mc Coy, the press and publicity liaison officer in the Office of the President of the previous government
"I find this to be strange because of the robustness that existed in the media and among the justice institute and the transparency international…not a word", he said.
Mc Coy was hospitalized with a broken jaw, an injury he sustained on elections day and was given his marching orders earlier this month.
The media was told yesterday that at the time that the dismissal letter was penned he was on sick leave which would have ended on June 16. During a press conference at Freedom House yesterday two medicals which were submitted to the Ministry of the Presidency (formerly Office of the President) on his behalf; the first being for seven days and the other for 28 days, were displayed.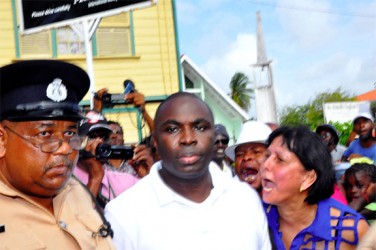 Mc Coy was at the press conference which was organized to highlight a number of concerns the party had. He however did not address the media directly. From all indication he is unable to speak properly. His mouth and lip area were noticeably swollen.
Edghill told reporters there is a "conspiracy of silence" as it relates to specific organizations and some sections of the media who have said nothing about the violation of persons' fundamental rights particularly in the area of the termination of employment.
Within the last few weeks several persons said to be affiliated with the former government or who were political appointee were dismissed.
He said that he has come up with this term to describe what is happening because the media and the nation's other "watchdogs" have been silent on several incidents which have occurred since there was a change of government.
He give four examples; among them were Claire Singh, the former REO of Region Nine who was replaced with Carl Parker, an APNU regional councillor, McCoy and the city council's Carol Sooba.
According to Edghill, in Mc Coy's case he was dismissed from his job while on sick leave. "It is no secret that Mc Coy was injured on May 11. He was hospitalized. I noticed that in some sections of the media they tried to play down his injury. Kwame Mc Coy's injury is public knowledge and even if it is not public knowledge it is because of the conspiracy of silence that exists", he said.
He informed that Mc Coy had sent in two sick leave forms to OP. "While on sick leave, unheard of, his services were terminated for not reporting to duty. How can you be reporting for duty when your doctor would have issued a medical that is submitted to your employer that you are unable to work", he said. He said that the termination was dated May 31 but this has not been rejected or criticized by anyone.
Edghill said that he was protesting the dismissal of Mc Coy as well as the manner in which he was dismissed. "They go together…If Mr. Mc Coy is on sick leave I expected Mr. Lincoln Lewis to be the loudest voice…because no worker contracted or on the establishment should be dismissed for not reporting for duty why you are on sick leave and there are bonafide medical certificates submitted to the personnel department of that agency".
"How could you be removing someone from office because they are of a political type and you appoint to act as the REO (of Region Nine) a sitting councillor….of the APNU in Region Nine to act as the REO. Not a word from the media", he stressed, adding the Justice Institute, Guyana Human Rights Association, Guyana Bar Association, Guyana Women Lawyers Association, the Guyana Council of Churches and the Inter Religious Organization of Guyana as others who have been silent. "We haven't heard from any of the watchdogs of justice and democracy and human rights in Guyana", he said with regards to Singh who it is alleged was a political appointee under the PPP/C administration
Edghill, the former Minister in the Ministry of Finance said that a person cannot just be terminated or fired because of their political views. Edghill said that in the cases he highlighted there was no due process. "Who is standing up for it (a person's right)? It would clearly appear that we have either lost our voices…or we are on vacation and I speak here about the conspiracy of silence that is coming from both the media as well as from the civil society groups. I have pointed out four cases".
Around the Web