The Annandale woman who allegedly set herself ablaze on June 3 has since succumbed to her injuries.
Jashodra Mangru called 'Shanta,' of Lot 114 Courbane Park, Annandale, East Coast Demerara (ECD) had to be rushed to the hospital by members of a policing group at around 10 pm on June 3.
The 57-year-old domestic worker sustained third degree burns to 40 per cent of her body.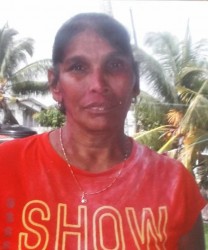 According to reports, Mangru had left home for work as was customary and on her return hours later, appeared frustrated and didn't speak to anyone.
She then locked herself away in her room and doused her body with kerosene oil before lighting a match.
Omawattie Bissesar, Mangru's eldest daughter, had related that the incident shocked her entire family circle and community.
Bissesar said she had been made aware of the incident early the next morning by way of a telephone call informing her that her mother was in the hospital.
The woman said she immediately rushed there, but her mother was in such a condition that she couldn't stand it and left.
Mangru had been on life support and Bissesar said doctors had informed that there was nothing else they could do for her.
A relative had said that though it had appeared the woman had family problems, she never shared this with anyone.
Around the Web