President David Granger yesterday named former Public Service Minister Dr Jennifer Westford and her spouse as two of the persons whose names state vehicles were being transferred into and which has prompted a police investigation.
Two senior employees of the ministry are now being probed by the police.
"We have evidence that some vehicles from a certain ministry (were being transferred improperly) to the minister and her spouse. These are things which we are investigating," President Granger told Stabroek News during an exclusive interview yesterday.
*
Efforts to contact the former minister yesterday proved futile as a call to her cellular phone went unanswered. However, the Stabroek News number was later dialled from her number and someone sounding like the former minister asked who was attempting to contact her. When told Stabroek News, the person said she was in a meeting and that the call should be tried later. However, later calls and a text went unanswered.
Efforts were also made to contact former Attorney General Anil Nandlall on the matter but he said he was in a meeting and later did not take any further calls or answer a text sent to his phone.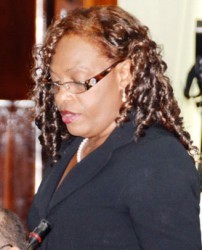 Stabroek News had reported yesterday that Minister of State Joseph Harmon had said that the irregularities were picked up on documents which were in the possession of the Guyana Revenue Authority (GRA) and the two women employees were sent on immediate leave so as to facilitate a probe.
The two women, one a senior officer who was close to the minister, were removed from the building by police officers. Documents have indicated that the vehicles were being transferred to Dr Westford and her spouse-a serving member of the Guyana Defence Force- and two other persons.
Harmon had said that the ministry had launched an investigation into the transfer of state-owned vehicles to persons. Some of the vehicles, he disclosed are high end and there are about seven vehicles which form part of the investigation.
He had also said that the matter was taken to the head of the Guyana Revenue Authority (GRA)
Khurshid Sattaur and the fraudulent documents were subsequently sent to Permanent Secretary Hydar Ally and it was based on this that the employees were sent on leave.
"There has been widespread abuse and wherever we come upon such abuse we will take the appropriate action to ensure that the state does not lose and that the offenders are punished," President Granger said yesterday.
The former government has alleged that its officials are being targeted by the new government and this case involving the attempted transfers of state vehicles to former Minister Westford and others will put pressure on it to respond.
Around the Web