A young resident of the East Coast of Demerara (ECD) started a one man clean-up campaign along the streets of the capital after being motivated by the actions of many but particularly that of "Captain Clean" and his team.
Brijraj Ramsaroop, 26 of Goedverwagting, ECD started a clean-up from Sheriff Street all the way down to Ogle on Monday and has conceived an outreach plan for friends to join him on the mission.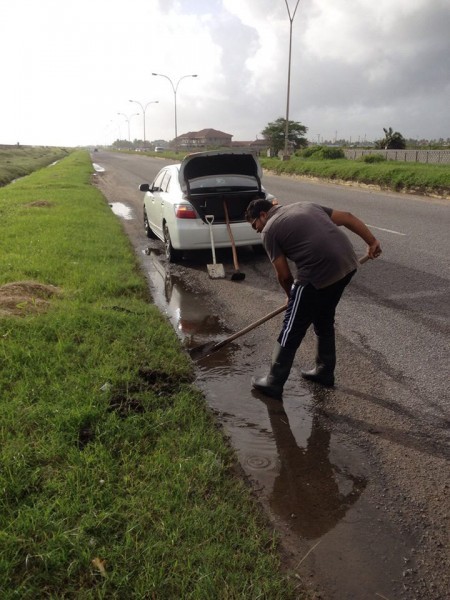 Speaking to this newspaper on Wednesday, Ramsaroop said, "the initiative of the entire clean-up campaign that I started is motivating and it came from 'Captain Clean' (Sherod Duncan) and his team and also with the aim of trying to stop the water build up along various parts of the East Coast roadways."
This, he said was an issue he wanted to solve since he was learning to drive for it was during that period he discovered how risky driving along waterlogged streets can be and wanted to reduce that risk exposure to others.
Ramsaroop related to this newspaper that even though he is a working man with a family, he puts aside at least one hour every morning to clean-up the drains.
The task he said, is done after taking his wife to work in the mornings and before he goes to his daily job. He also noted that during this process, he uses his own tools and vehicle but employs nearby bins to place the waste matter cleared from the drains.
"Cleaning up in my area is not anything strange to me, I always do in my area but I have decided to expand further because I want to create and maintain a clean and healthy environment and I am urging others to come out and do the same," Ramsaroop said.
Around the Web